Shanghai Tops Group Equipment Co., Ltd. is a professional enterprise that designs, manufactures and sells powder and granular packaging machinery and undertakes complete sets of projects. With the continuous exploration, research and application of advanced technology, the company's development has begun to take shape, and has an innovative team composed of professional technicians, engineers, and sales and after-sales service personnel. All products produced by the company meet GMP requirements. With advanced engineering design technology and high-quality equipment system, our company has passed CE certification.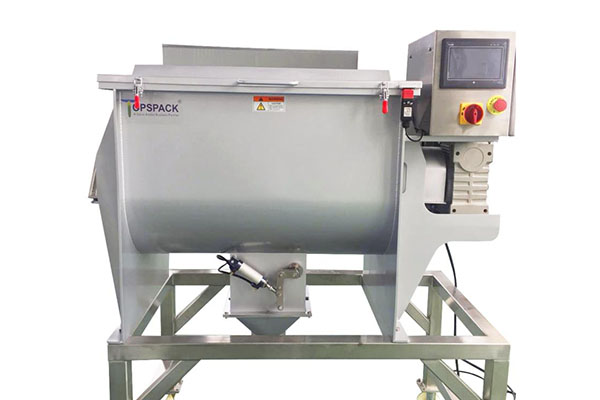 Double ribbon mixing machine is the most popular mixing instrument with Low maintenance cost. They can be used to blend almost any powder& Granule product such as pharmaceuticals, nutraceuticals, and food products of all kinds, fertilizer, stucco, clay, potting soils, paint, plastics, chemicals, and so on. Well-designed ribbon blenders are fairly fast to blend and easy to load and unload.
At the same time, the ribbon mixing machine also has the following characteristics:
1. Good mixing uniformity: It consists of an inner and an outer ribbon providing counter-directional flow while keeping the product in constant motion throughout the vessel.
2. Safe use: The mixer is equipped with different safety devices to protect the safety of operators.
3. Sanitary safety grade: All work-pieces are connected by full welding. No residual powder and easy-cleaning after mixing.
4. Good sealing effect: The seal of our mixer adopts a labyrinth design (the seal design has obtained a national patent, patent number:) and adopts the German Bergman brand sealing material, which is more wear-resistant and more durable.
5. Various inlets: The mixing tank top lid design of ribbon powder blender can be customized according to customer's requirement. If you need manual load the mixer, we can customize whole lid opening to convenient manual loading. We can meet your all customized requirements.
6. Different models to choose: Our smallest model is 100L, and the largest model can be customized to 12000L.
7. Easy to operate: English control panel is convenient for your operating.
---
Post time: Mar-09-2021