In today's topic, we will find out the difference between a ribbon blender and a paddle mixer.
What is ribbon blender?
The ribbon blender is a horizontal U-shaped design that is perfect for blending powders, liquids, and granules, and it can combine even the smallest amount of material in big quantities. Construction, agricultural chemicals, food, polymers, pharmaceuticals, and other industries can all benefit from a ribbon blender. For a more efficient procedure and output, a ribbon blender offers a variety of mixing options that are extremely scalable.
What is paddle mixer?
No gravity mixer is another name for a paddle mixer. It's commonly used to combine powders and liquids, as well as granular and powders. Food, chemicals, pesticides, feeding supplies, batteries, and other products are all covered by it. It has a high-precision mixing that reacts to the components and combines it precisely, regardless of its gravity, proportion, or particle density. It produces part fragmentation by adding fragmentation equipment. The mixer can be made of a variety of materials, including 316L, 304, 201, carbon steel, and so on.
In addition, each product has its own set of features.
Ribbon Blender Features:
-A well-welded connection is present in all parts.
-The tank's interior is fully polished, with a ribbon and shaft.
- Stainless steel 304 is used in all of the parts.
- When mixing, there are no dead angles.
- It has a spherical shape with a silicone ring lid.
- It has a secure grid, an interlock, and wheels.
Paddle Mixer Features:
1.highly active: rotate backwards and release materials in different directions. The mixing time is 1 to 3 minutes.
2.High mixing uniformity: The hopper is filled using a compact design and rotational shafts, producing a 99% mixing standard.
3.Low residue: an open-type discharging hole with only a 2–5 mm gap between the shafts and the wall.
4.No Leakage: The revolving axle and discharge hole are protected by a patent-pending design.
5.Entirely clean: fully welded and polished procedure for the mixing hopper without any fastening parts such as screws or nuts for the mixing hopper.
6.Stainless steel is used throughout the machine, except for the bearing seat, giving it a sleek appearance.
The structure of each mixer:
Except for the agitator, all the components are the same.
Ribbon blender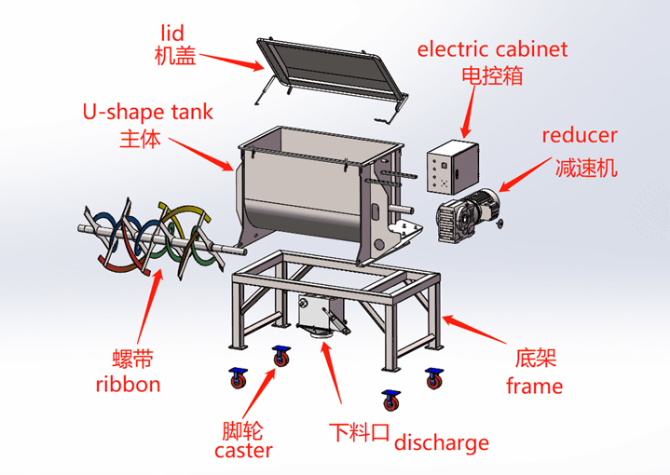 Paddle mixer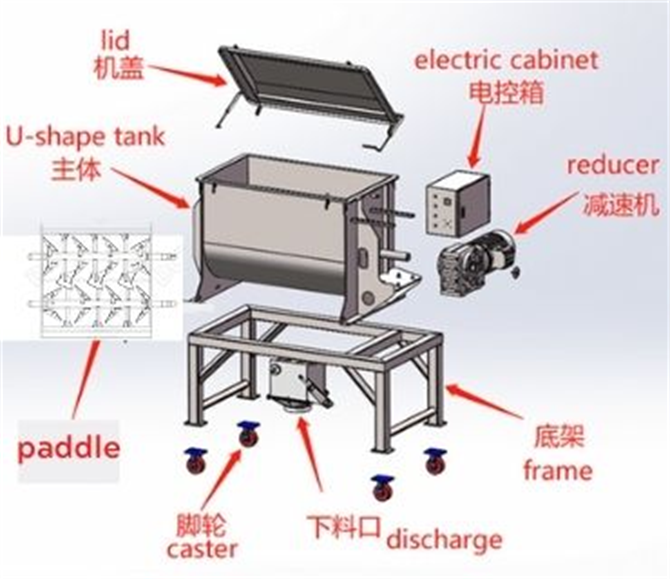 The working principle of each differs:
Did you know there are two ribbon agitators in a ribbon blender?
What is the efficiency and effectiveness of the ribbon blender?
-The ribbon blender has a U-shaped chamber and a ribbon agitator for well-balanced ingredient mixing. The inner helical agitator and the outer helical agitator make up the ribbon agitator. When carrying the ingredients, the inner ribbon carries the ingredients from the middle to the outside, while the outer ribbon carries the ingredients from two sides to the center. The ribbon blender reduces the amount of time it takes to mix while also improving the mixing result.
-A paddle mixer consists of paddles. Paddles at different angles carry materials from the bottom to the top of the mixing tank. Various sizes and densities of the components have various impacts on producing a homogenous mixing result. The volume of the product is shattered and combined in a sequential way by the revolving paddles, forcing each component to flow through the mixing tank fast and intensively. 
It also varies in terms of material and application:
Ribbon blender is commonly used for dry solid blending, liquid materials and is used in the following applications:
Pharmaceutical industry: mixing for powders and granules.
chemical industry: metallic powder mixtures, pesticides, herbicides, and many more.
The food processing industry: cereals, coffee mixes, dairy powders, milk powder, and many more.
Construction industry: steel preblends, etc.
Plastics industry: mixing of masterbatches, mixing of pellets, plastic powders, and many more.
Polymers and other industries.
Many industries also are now using ribbon blenders.
Paddle mixer is useful in many industries such as:
Food industry- food products, food ingredients, food additives, food processing AIDS in various fields, and the pharmaceutical intermediate, brewing, biological enzymes, food packaging materials are also mostly used.
Agricultural industry- Pesticide, fertilizer, feed and veterinary medicine, advanced pet food, new plant protection production, cultivated soil, microbial utilization, biological compost, and desert greening.
Chemical industry- Epoxy resin, polymer materials, fluorine materials, silicon materials, nanomaterial, and other rubber and plastic chemical industry; Silicon compounds and silicates and other inorganic chemicals and various chemicals.
Battery industry- Battery material, lithium battery anode material, lithium battery cathode material, and carbon material raw material production.
Comprehensive industry- Car brake material, plant fiber environmental protection products, edible tableware, etc.
That would be the difference between a paddle mixer and a ribbon blender. Hopefully, it will help you choose the best suit for your products.
---
Post time: Feb-23-2022