What is Auger Filler?
Another professional design created by Shanghai Tops Group is the auger filler. We have a patent on the design of a servo auger filler. This type of machine can do both dosing and filling. Many industries, including pharmaceuticals, agriculture, chemicals, food, and construction, use auger fillers. It is applicable for fine granular materials, low-fluidity materials, and other materials.
For a standard design, our average production time is about 7 days. Tops group can customize the machine according to your needs.
Here's the difference between standard model and online weighing control of auger filler:
This is the standard design of auger filler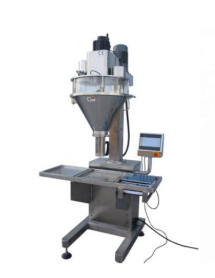 Standard design auger filler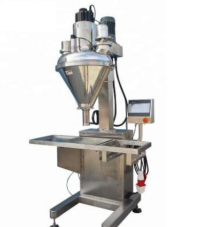 High level design auger filler
Both models have volume and weighing modes.
It can be switched between weight mode and volume mode.
Volume mode:
The powder volume is settled after turning the screw one round. The controller will calculate how many turns the screw must make to achieve the desired fill weight.
(Accuracy: ±1%~2%)
Weight mode:
A load cell beneath the filling plate measures the filling weight in actual time. The first filling is faster and mass-filled to achieve 80% of the required filling weight.
The second filling is slow and precise, adding the remaining 20% based on the weight of the first filling. (±0.5%~1%)
1. The main mode's difference
Standard design auger filler - Main mode is volume mode 
High level design auger filler- Main mode is weighing mode
2. The volume mode's difference
It fits any bottle or pouch. When filling, the pouch needs to hold manually.
(Standard design auger filler)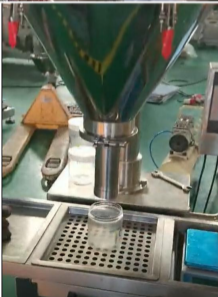 It is suitable for any bottle or pouch. However, when using volume mode, the pouch clamp is removed because it will interfere with the filling of bottles.
(High level design auger filler)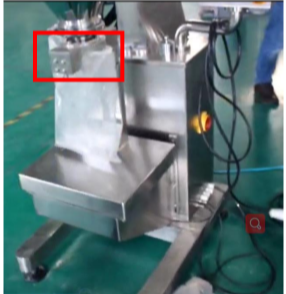 3. The weighing mode's difference
Standard design auger filler
When switching to weighing mode, the scale would move beneath the filler and the package placed on the scale. As a result, it is only suitable for bottles and cans. Alternatively, the pouch can continue to stand and open without being held manually. When the operator touches the pouch, the accuracy suffers, just as we cannot stand on the scale while holding the wall.
High level design auger filler
It fits any pouch. The pouch will be held in place by a pouch clamp, and a load cell under the plate will detect real-time weight.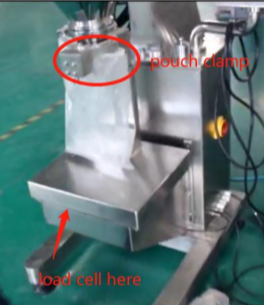 ---
Post time: Apr-07-2022