What is a liquidificador blender?
The liquidificador blender is designed for low-speed stirring, high dispersion, dissolving, and blending of liquid and solid goods of various viscosities. The machine is designed to emulsify pharmaceuticals. Cosmetics and fine chemicals, especially those with high matrix viscosity and solid content.
The main emulsifying pot, a water pot, an oil pot, and a work-frame comprise the structure.
What are the Main Features of liquidificador blender?
- For industrial mass production, a high viscosity material mixture is appropriate.
- Because of the spiral blade's unique shape, high-viscosity materials be moved up and down without taking up any space.
- A closed layout prevents dust from floating into the sky, and a vacuum system is available.
 What is the structure of liquidificador blender?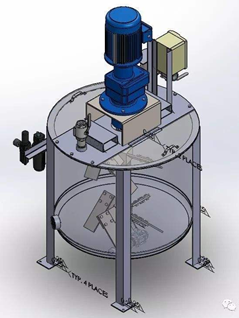 | | |
| --- | --- |
| No. | Item |
| 1 | motor |
| 2 | outer body |
| 3 | impeller base |
| 4 | various shape blades |
| 5 | mechanical seal |
What is the Working Principle of a liquidificador blender?
The motor drives the triangular wheel to rotate. Using the adjustable speed stirring paddle in the pot and the homogenizer at the bottom, the components are thoroughly mixed, blended, and swirled consistently. The process is straightforward, low-noise, and repeatable.
---
Post time: May-09-2022