Can filling and packaging production line
Product Detail
Product Tags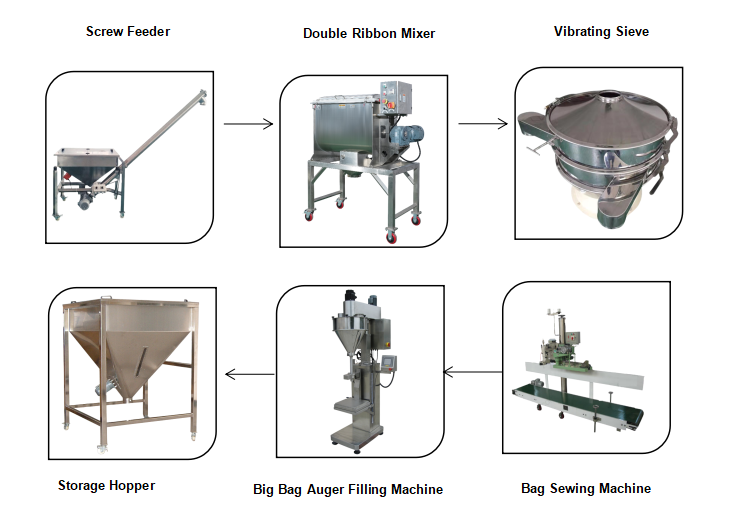 Large bag filling and packing line, mainly suitable for powder, pellet material and need to use large bag packaging.
The production line is mainly composed of feeding machine, mixing machine, vibrating screen, hopper, filling machine and sewing machine.
Of course, the equipment can be added or subtracted according to different needs.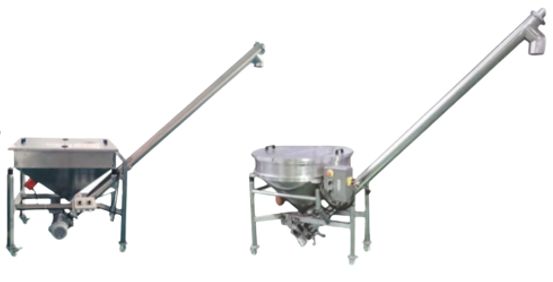 General Introduction:
The screw feeder can convey powder and granule material from one machine to another.
It's efficient and convenient. It can work in cooperation with the packing machines to form a production line.
So it is widely used in packaging line, especially semi-auto and automatic packaging line. It is mainly used in conveying powder materials, such as the milk powder, protein powder, rice powder, milk tea powder, solid beverage, coffee powder, sugar, glucose powder, food additives, feed, pharmaceutical raw materials, pesticide, dye, flavour, fragrances and so on.
Main Features:
Hopper is vibratory which makes material to flow down easily.
Simple structure in linear type ,easy in installation and maintenance.
The whole machine is made of SS304 to reach the food grade request.
Adopting advanced world famous brand components in pneumatic parts ,electric parts and operation parts.
High pressure double crank to control the die opening and closing.
Running in a high automation and intelligentialize,no pollution
Apply a linker to connect with the air conveyor ,which can directly inline with filling machine.
Specification:
Main Specification

HZ-2A2

HZ-2A3

HZ-2A5

HZ-2A7

HZ-2A8

THZ-2A12

Charging Capacity

2m³/h

3m³/h

5m³/h

7m³/h

8m³/h

12m³/h

Diameter of pipe

Φ102

Φ114

Φ141

Φ159

Φ168

Φ219

Hopper Volume

100L

200L

200L

200L

200L

200L

Power Supply

3P AC208-415V 50/60HZ

Total Power

610W

810W

1560W

2260W

3060W

4060W

Total Weight

100kg

130Kg

170Kg

200Kg

220Kg

270Kg

Overall Dimensions of Hopper

720×620×800mm

1023×820×900mm

Charging Height

Standard 1.85M,1-5M could be designed and manufactured

Charging angle

Standard 45 degree ,30-60 degree are also available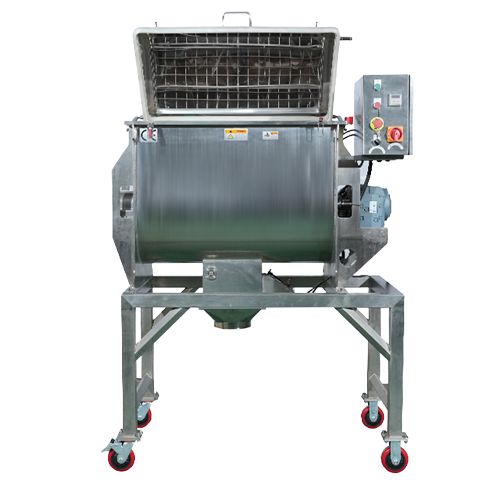 General Introduction:
Horizontal ribbon mixer is widely used in chemical, pharmaceuticals, food, and construction line.It can be used to mix powder with powder, powder with liquid, and powder with granule.Under the driven of motor, the double ribbon agitator let the material to get a high effective convective mixing in short time.
Main Features:
Under the bottom of the tank, there has a flap dome valve (pneumatic control or manual control) of the center. The valve is arc design that assure no material accumulated and without any dead angle when mixing. Reliable regula- seal prohibit the leakage between the frequent close and open.
The double ribbon of the mixer can make the material mixed with more high speed and uniformity in short time
Whole machine stainless steel 304 material and full mirror polished inside of mixing tank, as well as ribbon and shaft. l
With safety switch, safety grid and wheels for safe and convenient using.
Specification:
Model

TDPM 100

TDPM 200

TDPM 300

TDPM 500

TDPM 1000

TDPM 1500

TDPM 2000

TDPM 3000

TDPM 5000

TDPM 10000

Capacity(L)

100

200

300

500

1000

1500

2000

3000

5000

10000

Volume(L)

140

280

420

710

1420

1800

2600

3800

7100

14000

Loading rate

40%-70%

Length(mm)

1050

1370

1550

1773

2394

2715

3080

3744

4000

5515

Width(mm)

700

834

970

1100

1320

1397

1625

1330

1500

1768

Height(mm)

1440

1647

1655

1855

2187

2313

2453

2718

1750

2400

Weight(kg)

180

250

350

500

700

1000

1300

1600

2100

2700

Total Power 

3KW

4KW

5.5KW

7.5KW

11KW

15KW

18.5KW

22KW

45KW

75KW
☆Auger Feeding Machine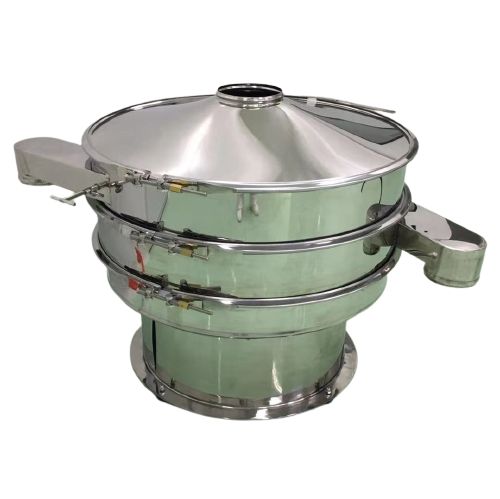 General Introduction:
ZS series vibrated filter is one of precised powder griddle,Low noise, high efficiency, need only 2~3 minutes to rapidly replace the griddle, all closed structure. Used to filter particles and  powder .
Main Features:
High efficiency, refined design, duration,any powders and mucilage are suitable for using.
Easy to replace the net, simple operation and convenience washing.
Never jam the hole mesh
Discharge the impurity and coarse materials automobile and operates continuously.
Unique net flame design, long duration of net, only 3-5 to replace the network.
Small volume, move easily.
The highest layers of the griddle are about 5 layers. 3 lagers are suggested.
Specification:
Model

TP-KSZP-400

TP-KSZP-600

TP-KSZP-800

TP-KSZP-1000

TP-KSZP-1200

TP-KSZP-1500

TP-KSZP-1800

TP-KSZP-2000

Diameter(mm)

Φ400

Φ600

Φ800

Φ1000

Φ1200

Φ1500

Φ1800

Φ2000

Effective area(m2)

0.13

0.24

0.45

0.67

1.0

1.6

2.43

3.01

Mesh

2-400

Material size(mm)

<Φ10

<Φ10

<Φ15

<Φ20

<Φ20

<Φ20

<Φ30

<Φ30

Frequency(rpm)

1500

1500

1500

1500

1500

1500

1500

1500

Power(Kw)

0.2

0.55

0.75

1.1

1.5

2.2

3

3

Height to 1st layer

605

605

730

810

970

1000

1530

1725

Height to 2nd layer

705

705

860

940

1110

1150

1710

1905

Height to 3rd layer

805

805

990

1070

1250

1300

1890

2085
☆Automatic Cans Sealing machine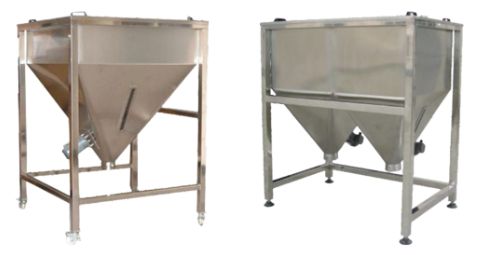 General Introduction:
Used for material storage.
Accessories and options: Stirrer,Safety griddle net , Level sensor, and so on. 
Main Features:
All made of 304 stainless steel except for motor.
All specifications storage tank: Both round and rectangular style.
Hopper volume: 0.25-3cbm(Other volume could be designed Andmanufactured.)
☆Big Bag Auger Filling Machine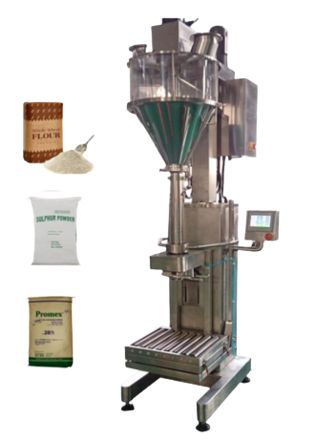 General Introduction:
This model is designed mainly for the fine powder which easily to spout dust and high-accuracy packing requirement. Based on the feedback sign given by below weight sensor, this machine do measuring, two-filling , and up-down  work ,etc. It is specially suitable for filling additives, carbon powder, dry powder of fire extinguisher, and other fine powder which needs high packing accuracy.
griddle net , Level sensor, and so on.
Main Features:
Lathing auger screw to guarantee the precise filling accuracy
PLC control and touch screen display
Servo motor drives screw to guarantee stable performance
Quick disconnecting hopper could be washed easily without tools
Can be setting to semi-auto filling by pedal switch or auto filling
Weight feedback and proportion track to materials, which overcomes difficulties of filling weight changes due to materials' density change.
Replacing the auger parts, different products ranging from fine powder to granule and different weight can be packed
Weight sensor is below the tray, to do fast filling and slow filling based on the pre-set weight, to guarantee the high packaging accuracy.
Process: put bag/can(container) on the machine → container raise → fast filling,container declines → weight reaches the pre-set number → slow filling  → weight reaches the goal number → take the container away manually
Specification:
| | | |
| --- | --- | --- |
| Model | TP-PF-B11 | TP-PF-B12 |
| Control system | PLC & Touch Screen | PLC & Touch Screen |
| Hopper | 75L | 100L |
| Packing Weight | 1kg-10kg | 1kg – 50kg |
| Weight dosing | By load cell | By load cell |
| Weight Feedback | Online weight feedback | Online weight feedback |
| Packing Accuracy | 1 – 20kg, ≤±0.1-0.2%, >20kg, ≤±0.05-0.1% | 1 – 20kg, ≤±0.1-0.2%, >20kg, ≤±0.05-0.1% |
| Filling Speed | 2– 25 times per min | 2– 25 times per min |
| Power Supply | 3P  AC208-415V  50/60Hz | 3P  AC208-415V  50/60Hz |
| Total Power |   | 3.2 KW |
| Total Weight | 400kg | 500kg |
| Overall Dimensions |   | 1130×950×2800mm |
☆Bag Sewing Machine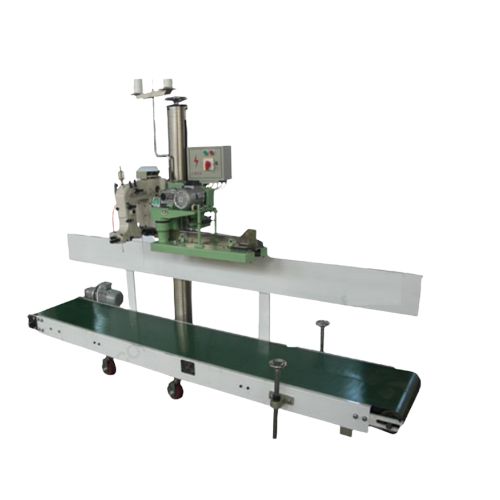 General Introduction:
 This is a kind of device that can hem the bag mouth of woven bag, and stitched by sewing machine Using this device,we can remarkably improve packaging fastness, effectively avoid bales off and leaking packages.
High speed transportation seam package for Profession pellet and powder material and so on, like rice, bread flour, feed, chemical fertilizer, industrial chemicals, sugar.
Main Features:
It adopts imported reducer and motor.
It has characteristics of advanced structure,
big range of speed regulation.
Superior hemming property.
Easy operation and convenient maintenance.
Installation and Maintenance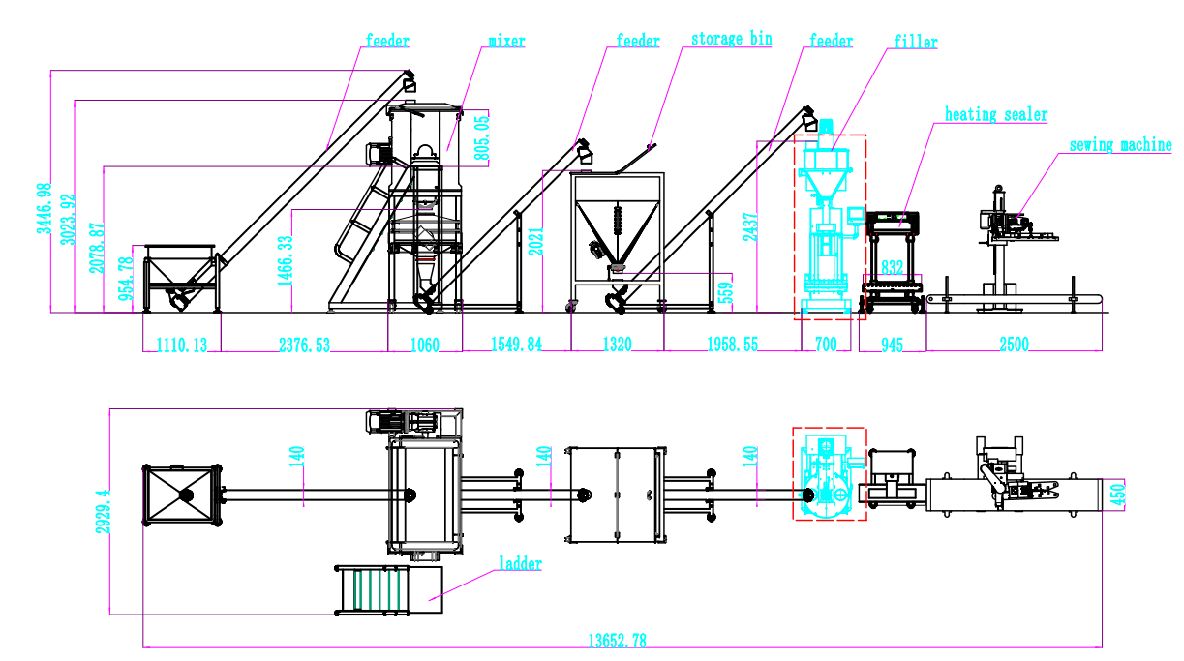 Shanghai Tops Group Co., Ltd. Which is a professional enterprise of designing, manufacturing, selling powder pellet packaging machinery and taking over complete sets of engineering.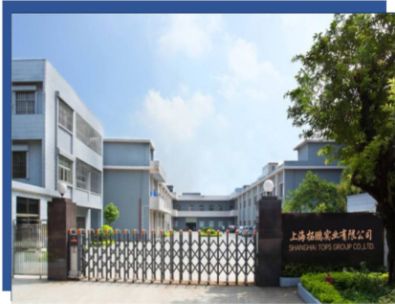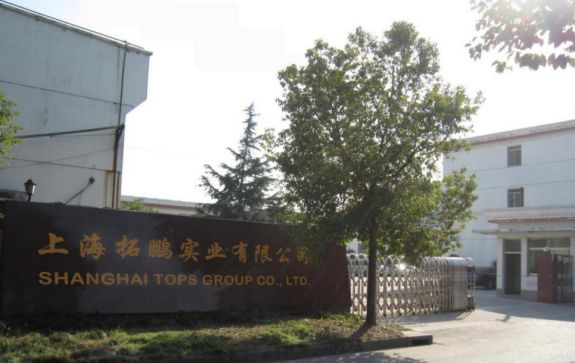 Since the company founded, it has successfully developed several series, dozens of varieties of packaging machinery and equipment,all the products meet the GMP requirements.We have sold our machines to more than 80 countries all over the world.Our company has a number of invention patents of ribbon blender design as well other machines.
With many years' development, we have built our own technician team with innovative technicians and marketing elites, and we successfully develop many advanced products as well as help customer design series of package production lines.
We are struggling to be the"first leader"among the same range of filed of packaging machinery. On the way to success, we need your utmost support and cooperation. Let's work hard altogether and make much greater success!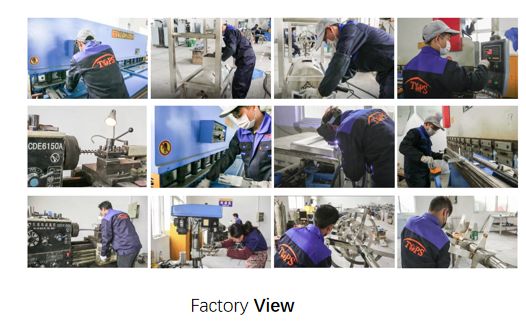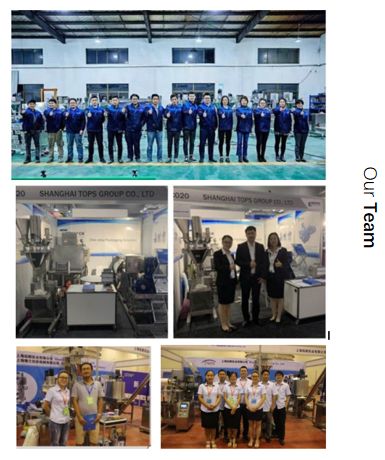 1:Why we can choose you?
Reliable---we are the real company, we dedicate in win-win
Professional---we offer the filling machine exactly you want
Factory---we have factory, so have reasonable price
2:How about the price?Can you make it cheaper?
A:The price depends on the item your demand(model,quantity)Beat quotation after receving full description of the item you
3:How long is the machine delivery time?
Normally, our delivery time is 25 days after we receive the deposit.If the order is big, we need to extend thedelivery time.
4:How does your factory do regarding quality control?
Quality is priorityl Every worker keeps the QC from the very beginning to the very end, all material we usedare meet GB standard, skilful workers care every detail in handing each process,Quality control departmentspecially responsible for quality checking in each process.
5:What's your company service and warranty?
Before you make the order, our sales will communicate all details with you until you get a satisfying solution from our
technician. We can use your product or similar one in China market to test our machine, then feed you back the video to show the effect.
For the payment term, you can choose from following terms:
L/C, D/A, D/P, T/T, Western Union, Money Gram, Paypal
After making the order, you can appoint inspection body to check your powder ribbon blender in our factory.
For the shipping, we accept all term in contract like EXW, FOB, CIF, DDU and so on.
Warranty and after-service:
■ TWO YEAR warranty, ENGINE THREE YEARS warranty, life-long service
(Warranty service will be honored if the damage is not caused by human or improper operation)
■ Provide accessory parts in favorable price
■ Update configuration and program regularly
■ Respond to any question in 24 hours
■ Site service or online video service
6:Do you have the ability of design and propose solution?
Of course, we have professional design team and experienced engineer. For example, we designed a bread formula production line for Singapore Bread Talk.
7:Does your powder ribbon blender have CE certificate?
Not only the powder ribbon blender but also all our machines have CE certificate.
8:Are you a factory or agent?
We are an OEM, we always design and manufacture our products ourselves,so we could provide satisfactorytechnical and after-sales service.
You could pay a visit to our factory any time you like.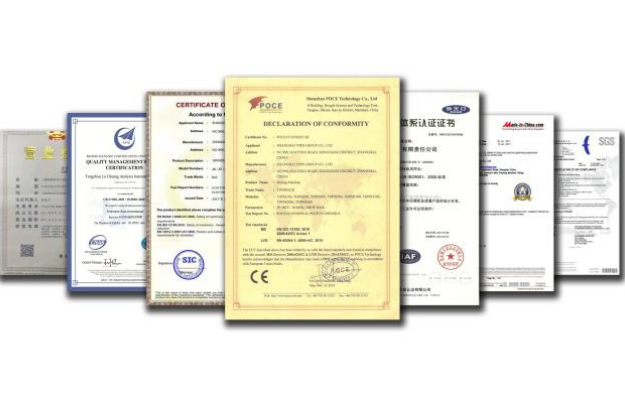 ---
Next:
---