Powder Blender
Product Detail
Product Tags
| | |
| --- | --- |
| Technology | Powder Blender                                                         |
| Materials | Stainless Steel |
| Application | Dry powders, Granule, Powder with Liquid |
| Capacity Sizes | 100L,200L,300L,500L,1000L,1500L,2000L,3000L |
| Configuration and    Shape | Horizontal, U-Shape |
| Other characteristics | Full mirror polished with ribbon and shaft. |
Main Composition of Powder Blender
Powder blender has ribbon agitator and a U-shaped chamber for highly- balanced mixing of materials. The ribbon agitator is made up of inner and outer helical agitator.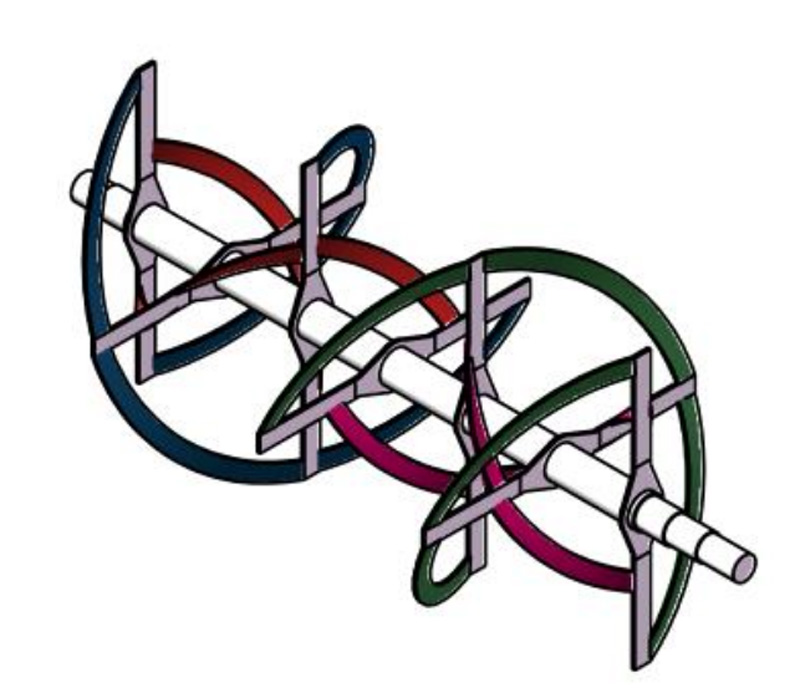 Working Principles
The inner ribbon moves the material from center to outside while outer ribbon moves the material from two sides to the center and it is combined with rotating direction when moving the materials. Powder blender gives a short time on mixing while providing a better mixing effect.
Outer Composition of Powder Blender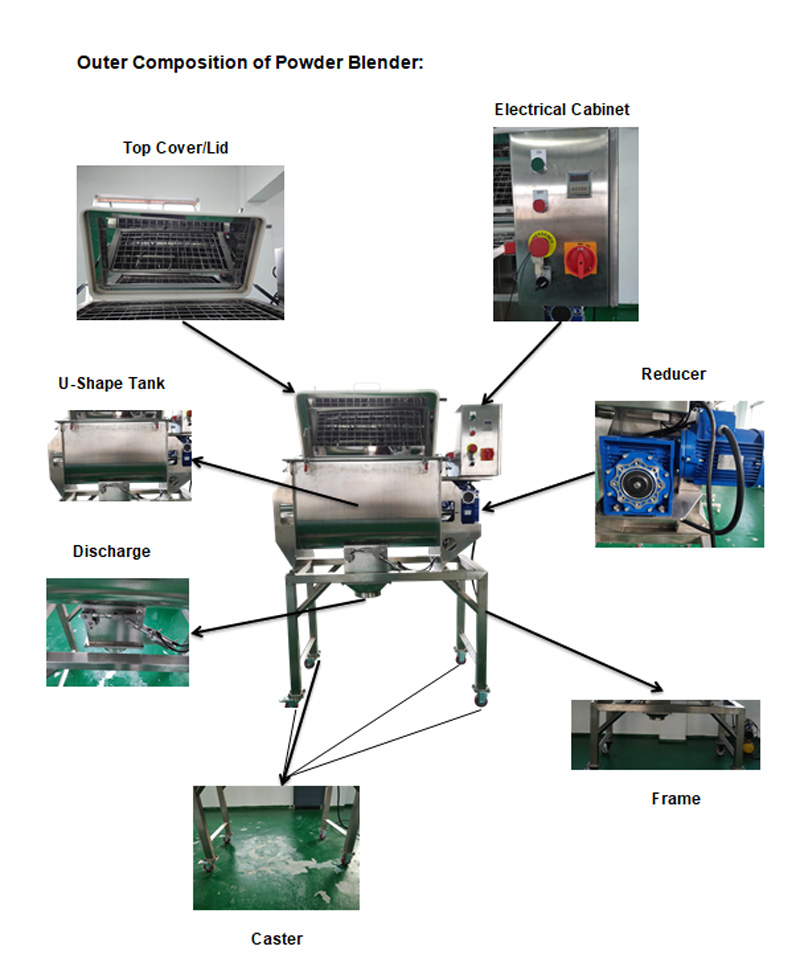 Main Features of powder blender
-- All connected parts are well-welded.
--What's Inside the tank is full mirror polished with ribbon and shaft.
-- All material is stainless steel 304 and can also be made of 316 and 316 L stainless steel.
-- It has no dead angles when mixing.
-- The shape is round with silicone ring lid feature.
-- With safety switch, grid and wheels for safety using.
-- The ribbon mixer can be adjusted into high speed for mixing the materials within a short time.
Powder Blender Table of Specification
Model

TDPM 100

TDPM 200

TDPM 300

TDPM 500

TDPM 1000

TDPM 1500

TDPM 2000

TDPM 3000

TDPM 5000

TDPM 10000

Capacity

(L)

100

200

300

500

1000

1500

2000

3000

5000

10000

Volume

(L)

140

280

420

710

1420

1800

2600

3800

7100

14000

Loading rate

40%-70%

Length

(mm)

1050

1370

1550

1773

2394

2715

3080

3744

4000

5515

Width

(mm)

700

834

970

1100

1320

1397

1625

1330

1500

1768

Height

(mm)

1440

1647

1655

1855

2187

2313

2453

2718

1750

2400

Weight

(kg)

180

250

350

500

700

1000

1300

1600

2100

2700

Total Power (KW)

3

4

5.5

7.5

11

15

18.5

22

45

75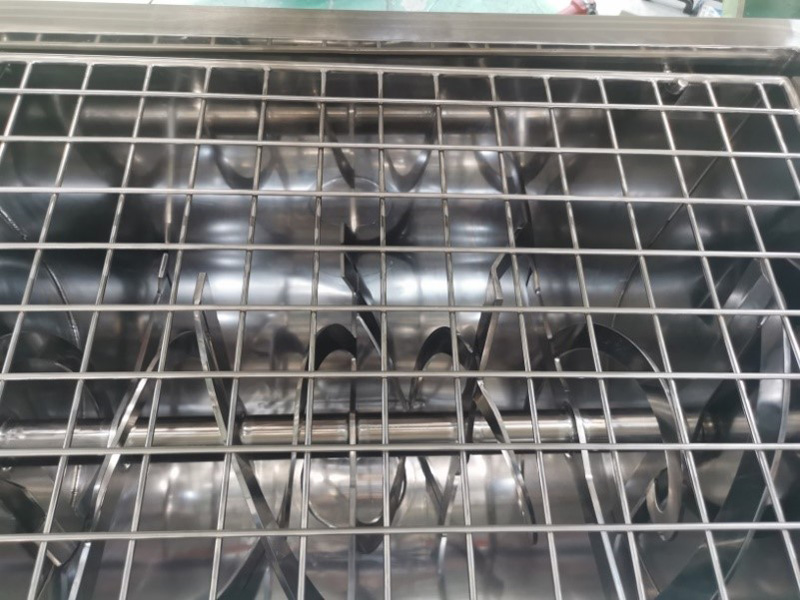 Mirror polished
Powder blender has a complete mirror polished into a tank and also a special ribbon and shaft design. Also powder blender has the design that contains concave pneumatically controlled flap at the center of the bottom of the tank to ensure a better sealing, no leakage, and no dead mixing angle.
Hydraulic strut
Powder blender has hydraulic strut and to make hydraulic stay bar long life it keeps slowly rising. Both materials can be combined to create the same product or part as options for SS304 and SS316L.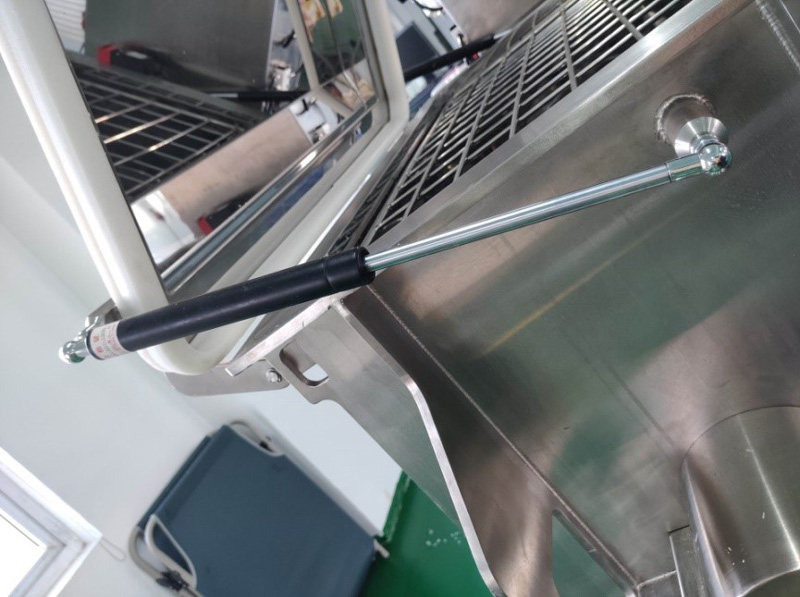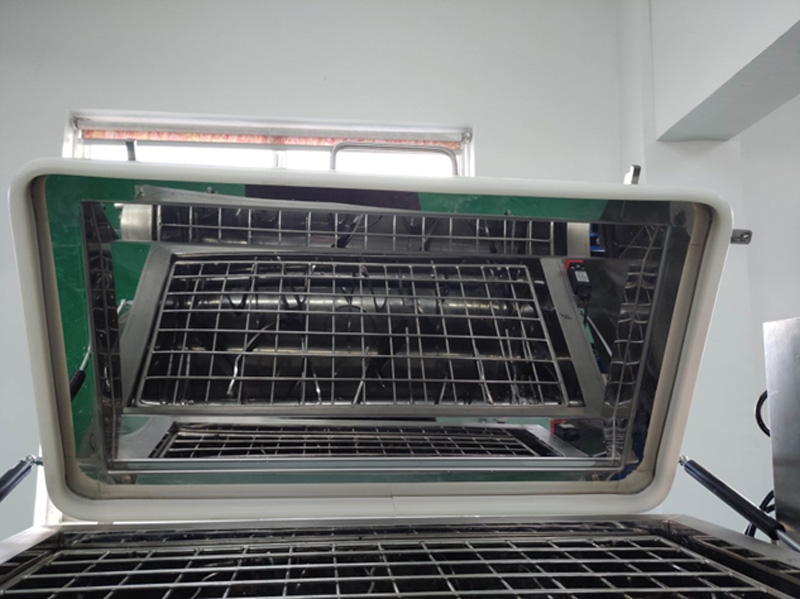 Silicone ring
Powder blender has silicone ring that can prevent dust coming out from mixing tank. And it's easy to clean. All material is stainless steel 304 and can also be made of 316 and 316 L stainless steel.
Powder blender is composed of safety devices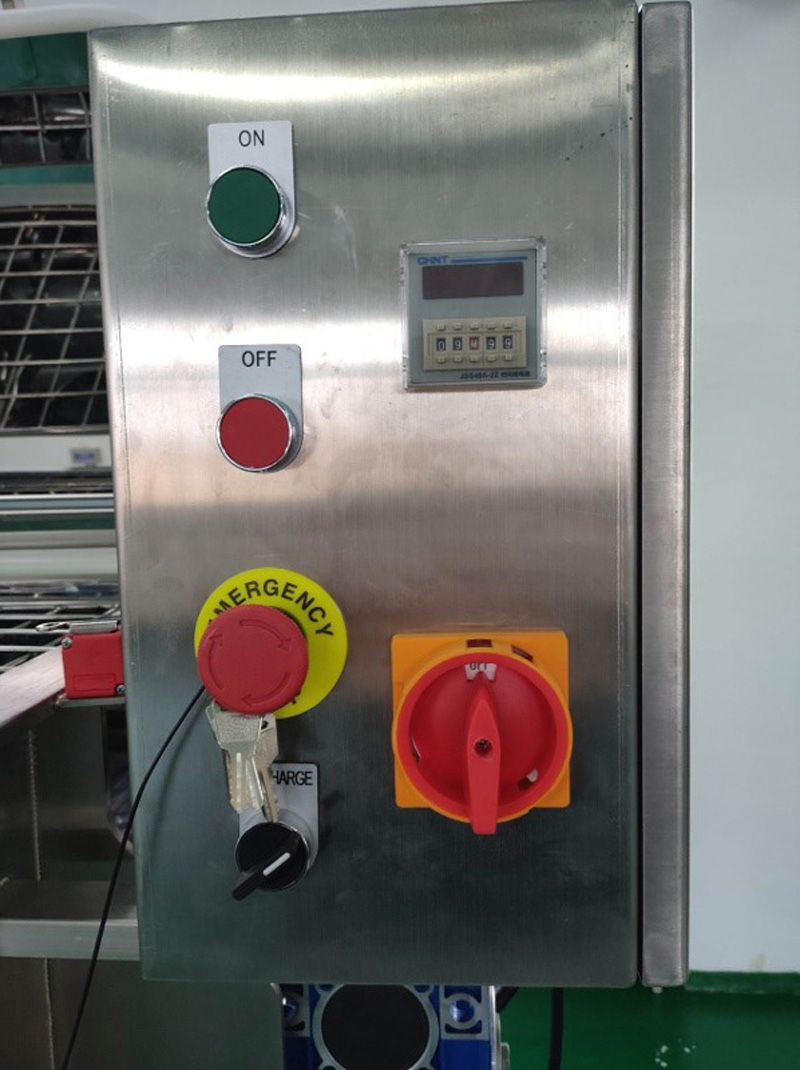 Safety Switch
Powder blender has three safety devices the safety grid, safety switch and safety wheels. The functions for these 3 safety devices are for safety protection for the operator to avoid personnel injury. Prevent from foreign substance that falls into a tank. Example, when you load with a big bag of materials it prevents the bag to fall into a mixing tank. The grid can break with a large caking of your product that falls into powder blender tank. We have patent technology on shaft sealing and discharge design. No need to worry about the screw falling into material and contaminating the material.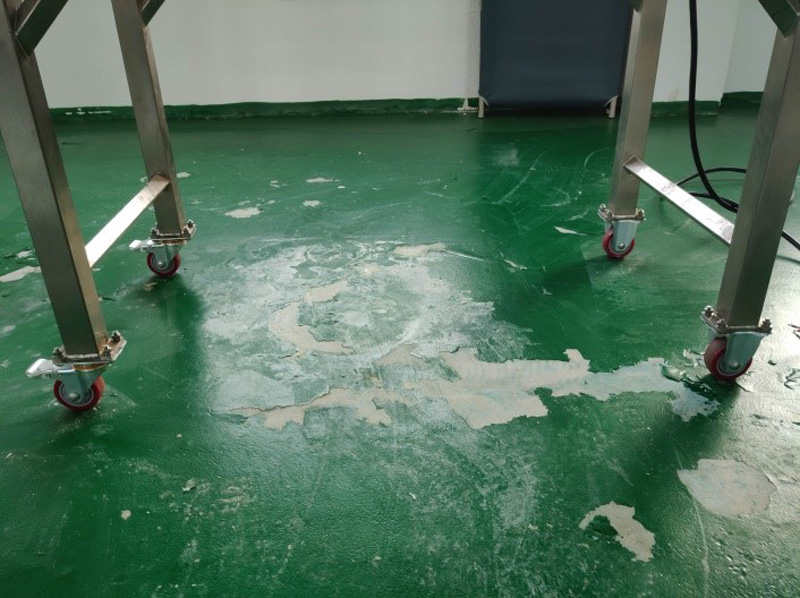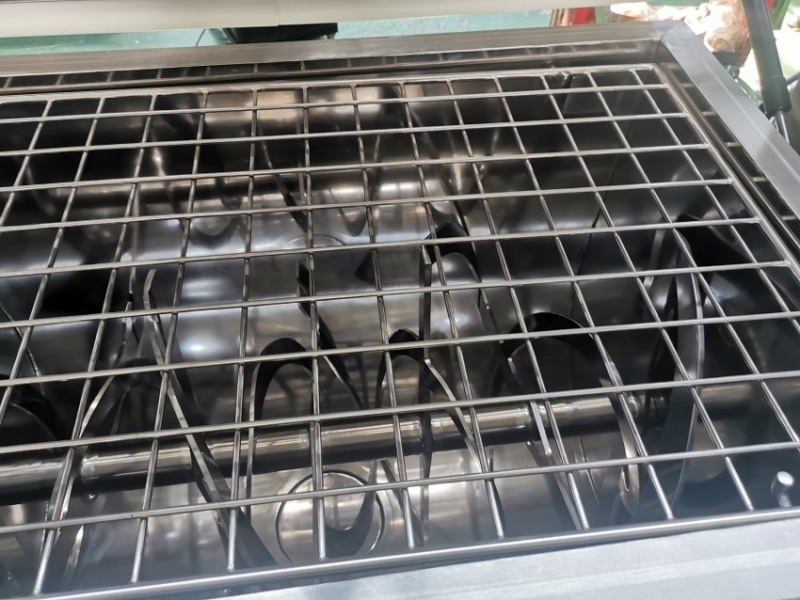 Powder Blender can also be customized according to the customers required
A.  Barrel Top Cover
-The top cover of powder blender can also be customized and the discharge valve can be manually or pneumatically driven.

B. Types of valve
-The powder blender has optional valves: cylinder valve, butterfly valve and etc.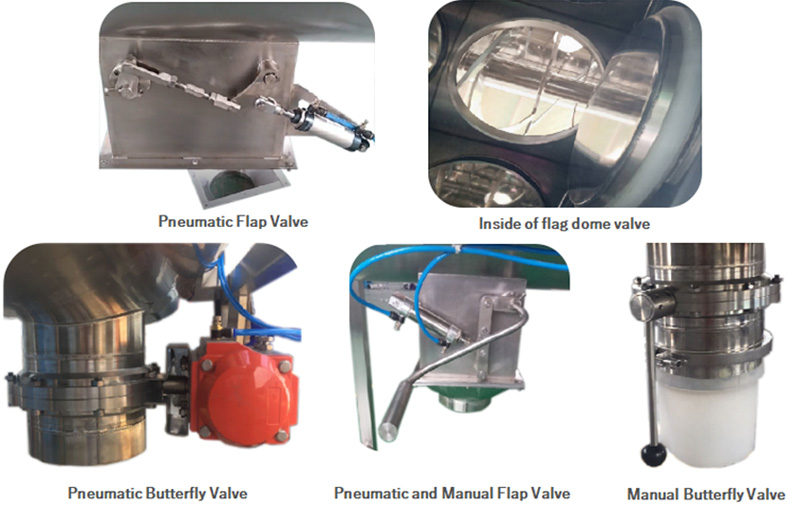 C.  Additional Functions
-Customer can also require the powder blender to equipped additional function with a jacket system for heating and cooling system, weighing system, dust removal system and spray system. The powder blender has a spraying system for liquid to blend in a powder material. This powder blender has the cooling and heating function of a double jacket and it could be intended to keep the mixing material warm or cold.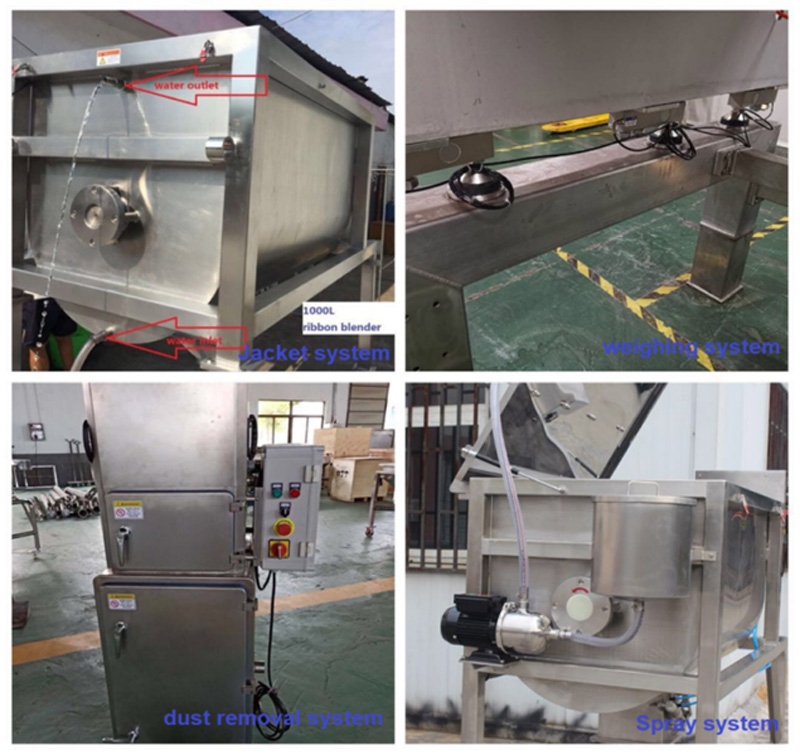 D.  Speed Adjustment
-Powder Blender can also customize speed adjustable, by installing a frequency converter; the powder blender can be adjusted to the speed.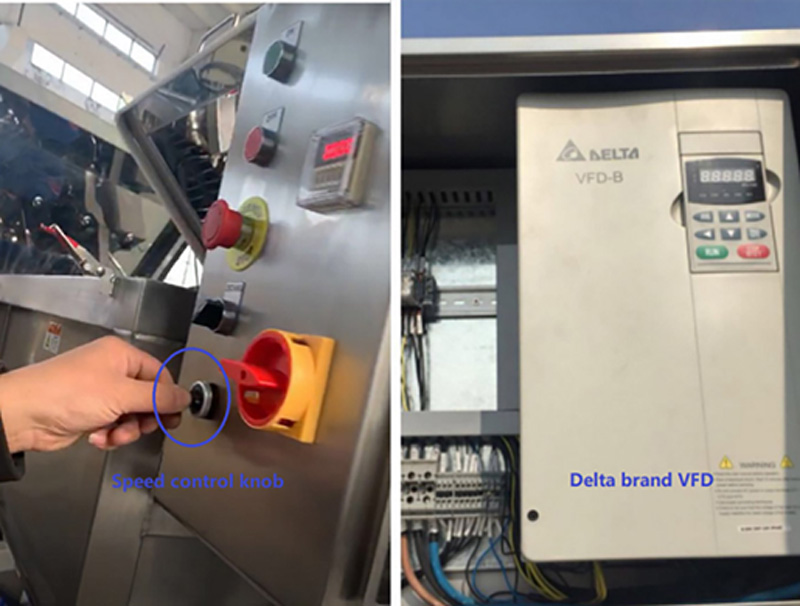 E.  Powder Blender Sizes
-Powder Blender is composed of different sizes and customers can choose according to their required sizes.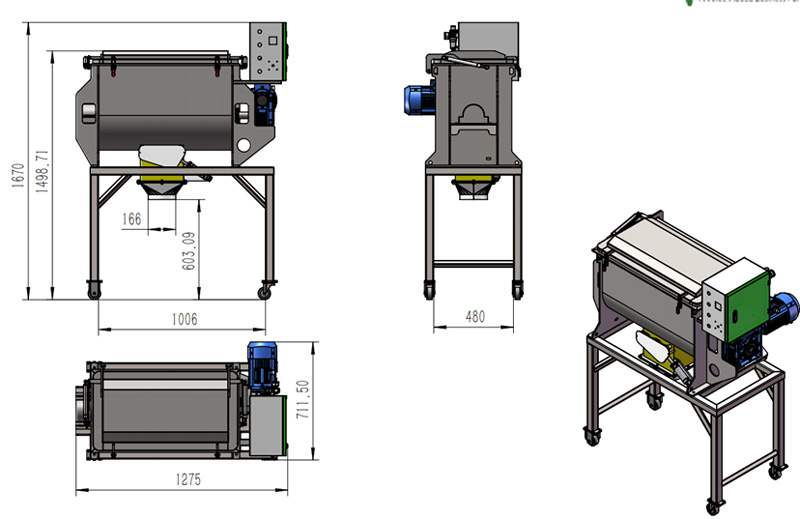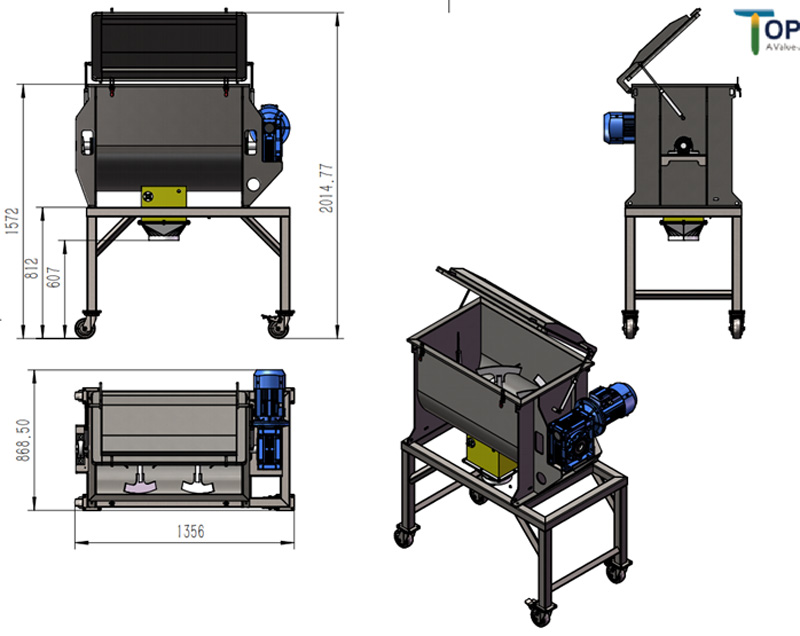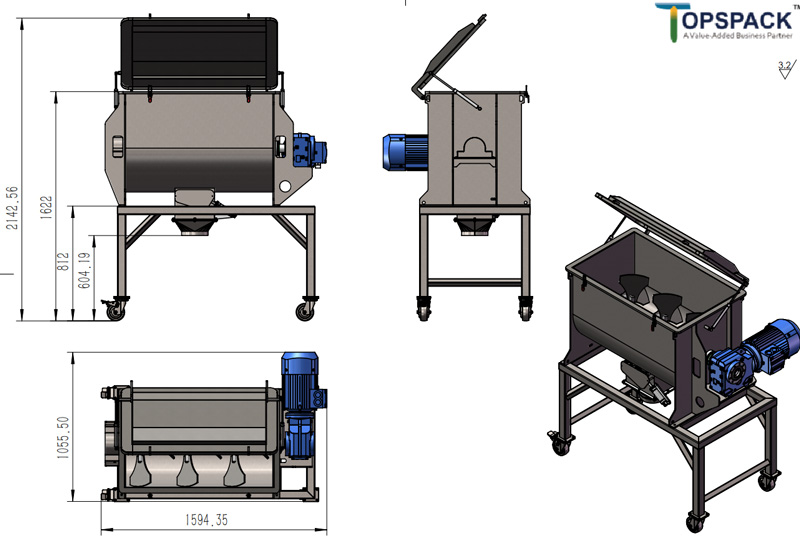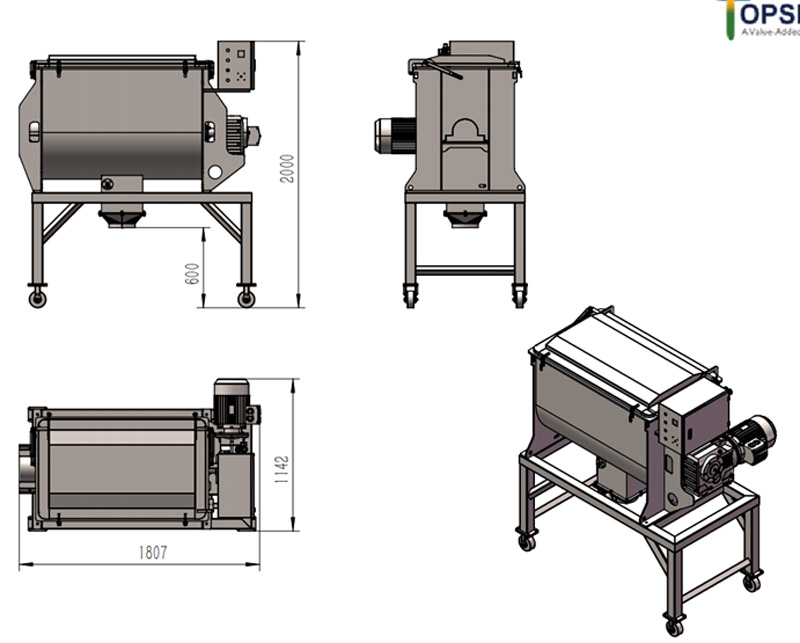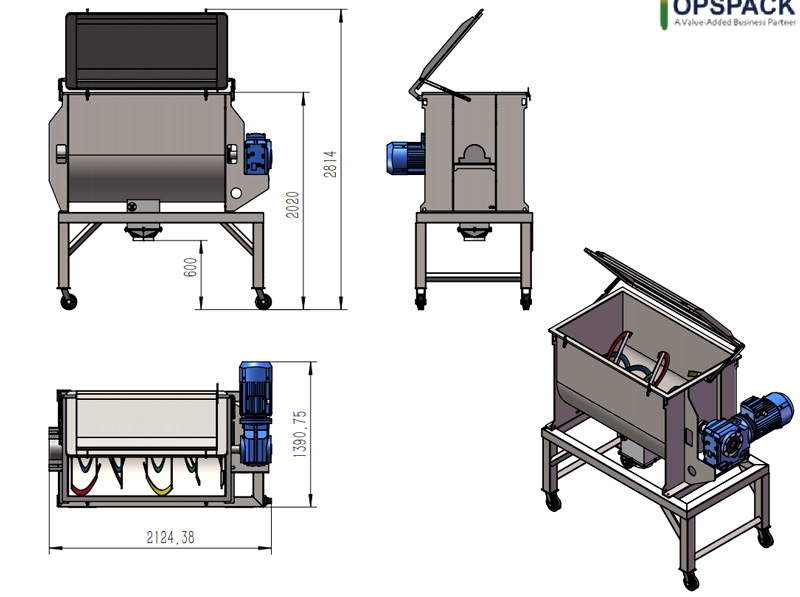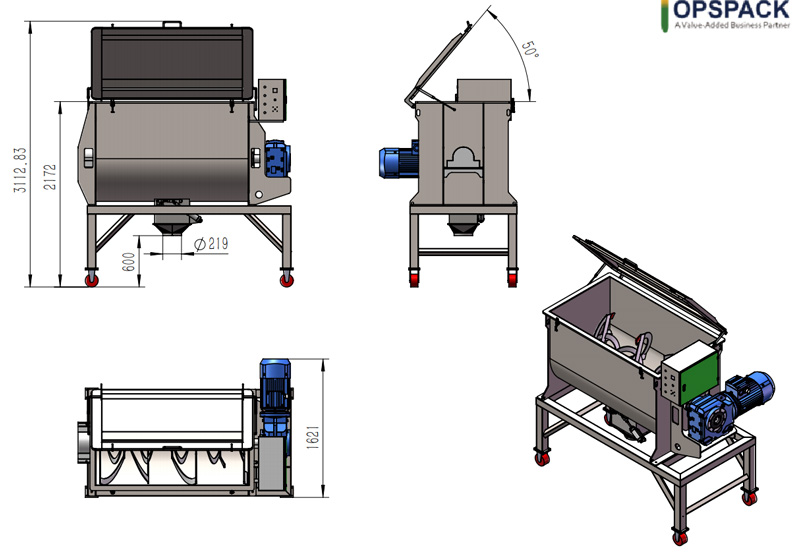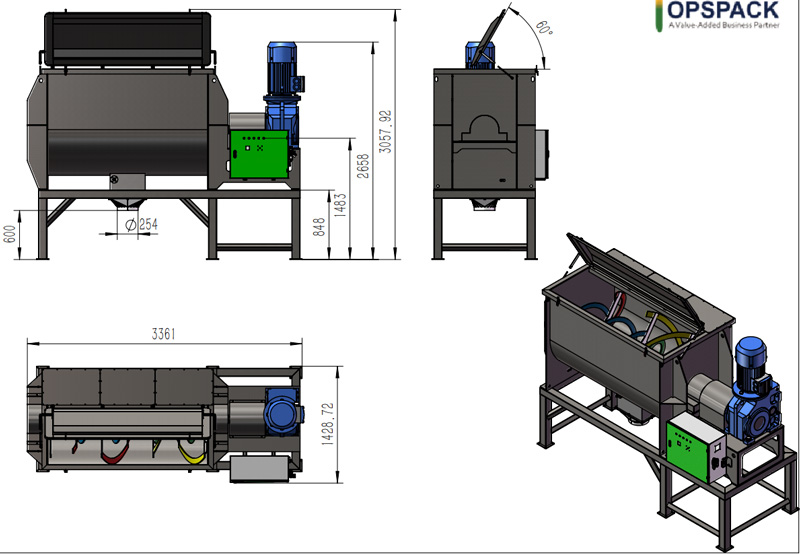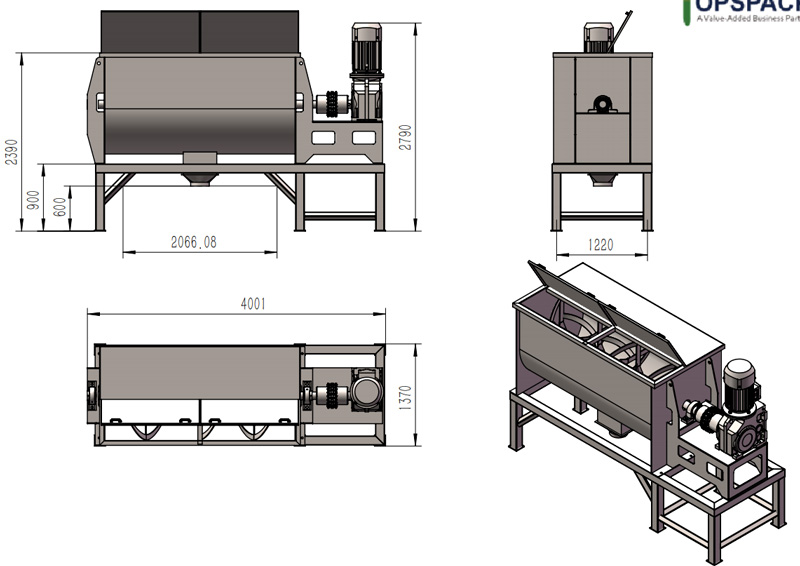 Powder Blender Table of Specification
In comparison with manual operation, the production line saves a lot of energy and time. In order to supply enough material in due time, the loading system will connect two machines. The machine manufacturer tells you that it takes you less time and improves your efficiency. A lot of industries involved in the food, chemical, agricultural, comprehensive, battery and other industries are using powder blender.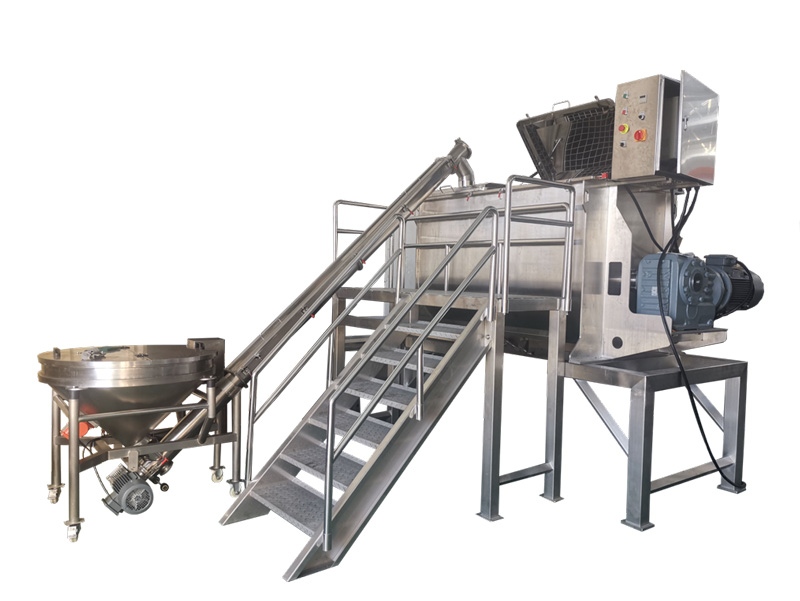 Production and Processing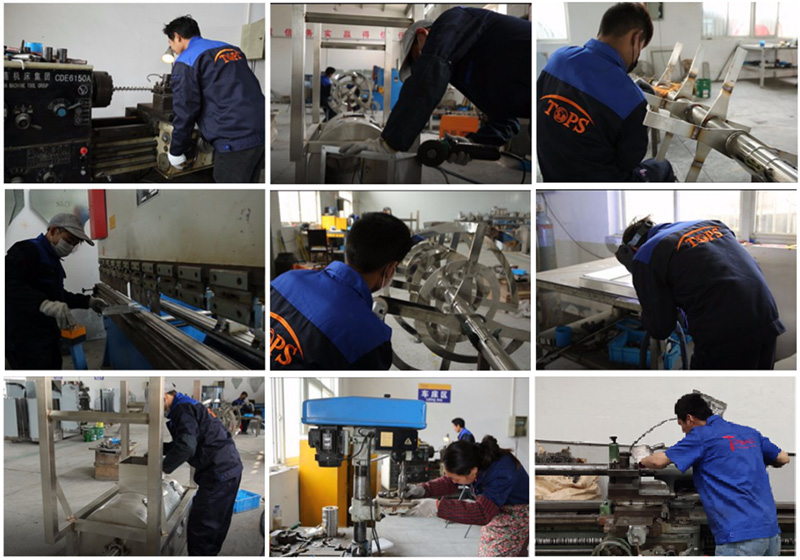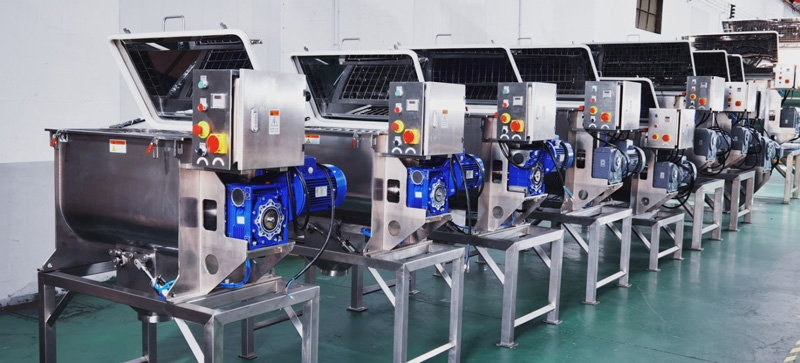 Benefits of using powder blender
■Easy to install, easy to clean and it is fast when mixing.
■A perfect partner when mixing dry powders, granule and liquid spray.
■100L-3000L is the huge capacities of powder blender.
■Can be customizing according to function, speed adjustment, valve, stirrer, top cover and sizes.
■It takes about 5 to 10 minutes, even less within 3 minutes on mixing different products while providing a better mixing effect.
■Saving enough space if you want small size or bigger size.
■ Provide accessory parts in favorable price
■ Update configuration and program regularly
■ Respond to any question in 24 hours
■ Payment Term: L/C, D/A, D/P, T/T, Western Union, Money Gram, PayPal
■ Price Term: EXW, FOB, CIF, DDU
■ Package: cellophane cover with wooden case.
■ Delivery Time: 7-10 days (standard model)
                         30-45days (customized machine)
■ Note: Powder blender shipped by air is about 7-10 days and 10-60 days by sea, it   depends on a distance.
■Place of Origin: Shanghai China
■Warranty: One-year warranty, life-long service
Powder blender completion
And now you recognize what a powder blender is used for. How to use, who to use, what parts are there, what materials are used, what sort of design is there, and how efficient, effective, useful, and easy this powder blender to use.
If you have questions and inquiries feel free to contact us.
Tel: +86-21-34662727 Fax: +86-21-34630350
 E-mail: wendy@tops-group.com
THANK YOU AND WE LOOK FORWARD
TO ANSWER YOUR INQUIRY!
---
Previous:
Automatic Capping Machine
Next:
Ribbon Mixer
---