SHANGHAI TOPS GROUP CO., LTD have various types of powder blending machine to meet different capacity requirements, dry powder blending equipment is the most popular mixing instrument with Low maintenance cost. They can be used to blend almost any powder& Granule product such as pharmaceuticals, nutraceuticals, and food products of all kinds, fertilizer, stucco, clay, potting soils, paint, plastics, chemicals, and so on. Well-designed powder blending machines are fairly fast to blend and easy to load and unload.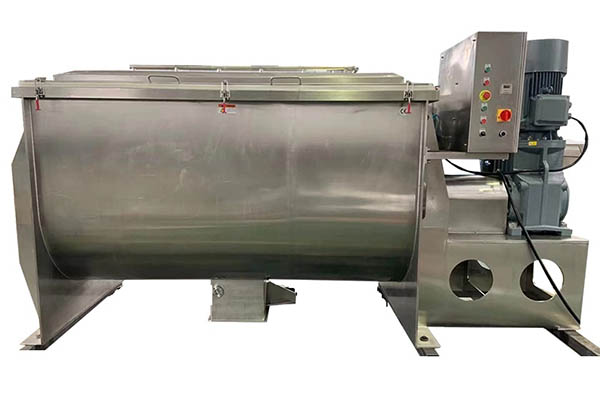 It consists of an inner and an outer ribbon providing counter-directional flow while keeping the product in constant motion throughout the vessel. Inside ribbons move materials toward the ends of the ribbon blending machine whereas the outside ribbons move material back toward the center discharge of the powder blending machine. Which can achieve a good mixing uniformaty CV <0.5%
(The purpose of mixing is to have a homogenous blend of ingredients and is described by Coefficient of Variation (CV) expressed in percentage: % CV = Standard Deviation / Mean X 100.)
Well-designed ribbon blending machines, no additional part and long life working time. All mixers are custom designed to meet customer requirements. Agitator and drive calculations are performed to ensure trouble free operation for many years. 
The ribbon blending machine is equipped with different safety devices to protect the safety of operators.
There is a safety switch beside the cover, when the cover is opened, the machine will automatically stop running.
At the same time, the upper part of the tank body is equipped with a safety grid, which can protect the safety of the operator to the greatest extent.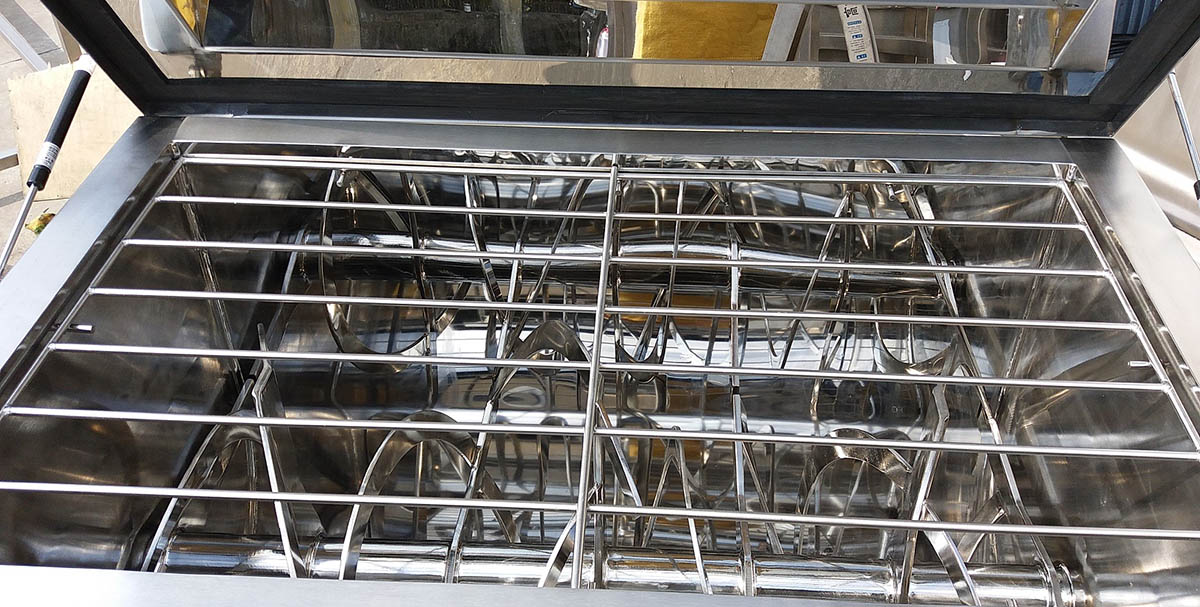 All work-pieces are connected by full welding. No residual powder and easy-cleaning after mixing. Round corner and silicone ring make powder blending machine cover easy to clean as well.
You can directly rinse the inner cylinder of the mixer with water, or you can use a vacuum cleaner to clean the interior.
No screws . Full Mirror polished inside of mixing tank, as well as ribbon and shaft, which is easy to clean as full welding. Double ribbons and main shaft are a whole one, no screws, no need to worry that screws may fall into the material and pollute the material.
The shaft sealing technology of the powder blending mixer has always been a technical problem in the mixer industry, because the main shaft passes through the main body on both sides of the mixer and is driven by the motor. This requires a proper gap between the shaft and the barrel of the mixer. The function of the shaft seal is to allow the main shaft to run smoothly in the mixer barrel without hindrance, and at the same time, the material in the mixer will not flow into the external sealing structure through the gap.
The seal of our blending mixer adopts a labyrinth design (the seal design has obtained a national patent, patent number:) and adopts the German Bergman brand sealing material, which is more wear-resistant and more durable.
The sealing material no need to be replaced within three years.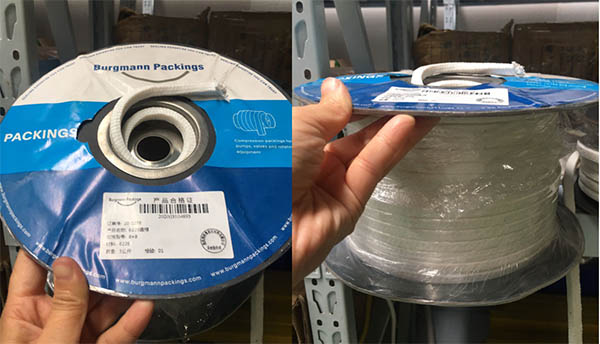 The mixing tank top lid design of ribbon powder blending machine can be customized according to customer's requirement. The design can meet different working conditions, cleaning doors, feeding ports, exhaust ports and dust removal ports can be set according to the opening function. On the top of powder blending mixer, under of the lid, there is a safety net, it can avoid some hard impurities drop into the mixing tank and it can protect operator safe. If you need manual load the blending mixer, we can customize whole lid opening to convenient manual loading. We can meet your all customized requirements.
Differnt discharging mode to choose
The ribbon blending discharge valve can be driven manually or pneumatically. Optional valves: cylinder valve, butterfly valve Manual slide valve etc.
When selecting pneumatic unloading, an air compressor is needed to provide air source to the machine. Manual unloading does not require an air compressor.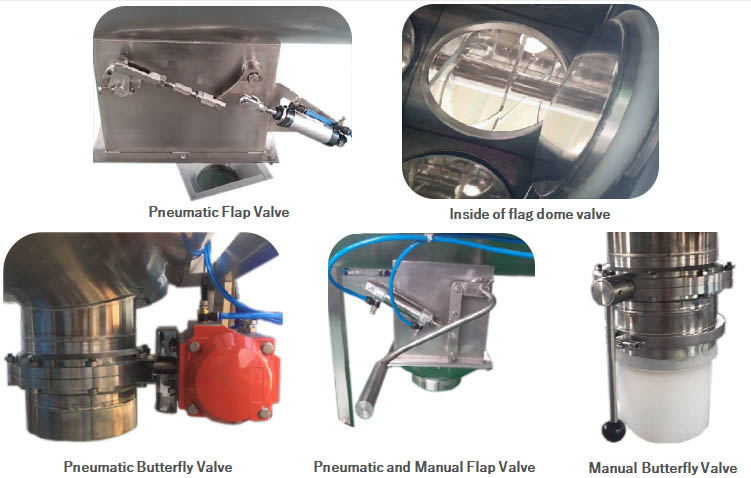 Different models to choose
SHANGHAI TOPS GROUP CO.,LTD have various types of blending mixers to meet different capacity requirements.
Our smallest model is 100L, and the largest model can be customized to 12000L.
Take a 100L mixer as an example. Can it load about 50kg of flour? The ribbon powder blending time is 2-3 minutes each time.
So if you buy a 100L mixer, his capacity is: put the material into the mixer about 5-10mins/, the mixing time is 2-3 minutes, and the discharge time is 2-3 minutes. So the total mixing time of 50kg is 9-16 minutes.
Information of different models
Model

TDPM 100

TDPM 200

TDPM 300

TDPM 500

TDPM 1000

TDPM 1500

TDPM 2000

TDPM 3000

TDPM 5000

TDPM 10000

Capacity(L)

100

200

300

500

1000

1500

2000

3000

5000

10000

Volume(L)

140

280

420

710

1420

1800

2600

3800

7100

14000

Loading rate

40%-70%

Length(mm)

1050

1370

1550

1773

2394

2715

3080

3744

4000

5515

Width(mm)

700

834

970

1100

1320

1397

1625

1330

1500

1768

Height(mm)

1440

1647

1655

1855

2187

2313

2453

2718

1750

2400

Weight(kg)

180

250

350

500

700

1000

1300

1600

2100

2700

Total Power (KW)

3

4

5.5

7.5

11

15

18.5

22

45

75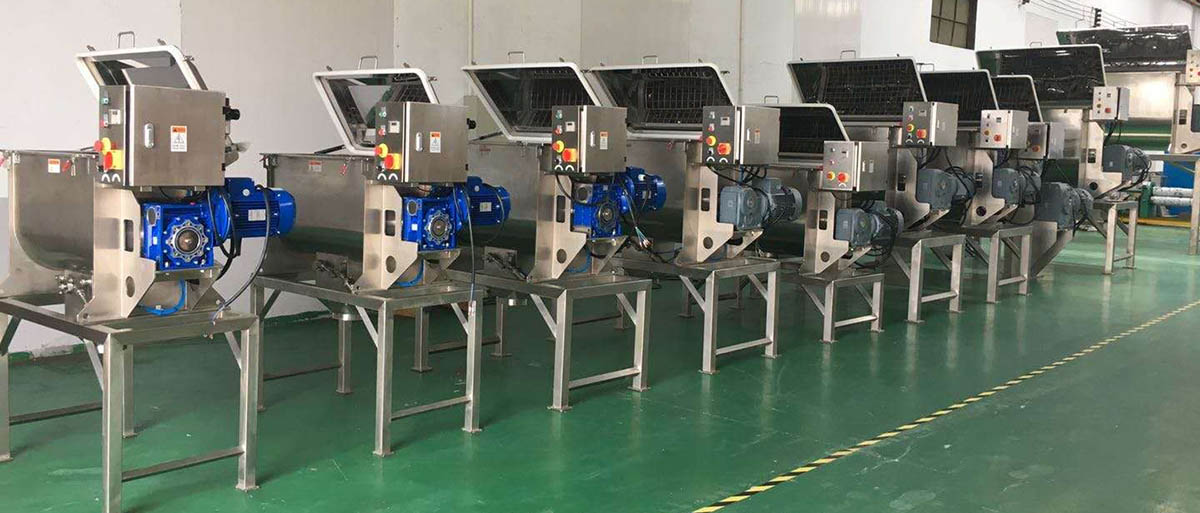 English control panel is convenient for your operating. There is the switch of "Main power" "Emergency stop" "Power ON" "Power OFF" "Discharge" "Timer" On the control panel.
Which is very easy and efficient to operate.
| | | | |
| --- | --- | --- | --- |
| No. | Name | Country | Brand |
| 1 | Stainless steel | China | China |
| 2 | Circuit breaker | France | Schneider |
| 3 | Emergency switch | France | Schneider |
| 4 | Switch | France | Schneider |
| 5 | Contactor | France | Schneider |
| 6 | Assist contactor | France | Schneider |
| 7 | Heat relay | Japan | Omron |
| 8 | Relay | Japan | Omron |
| 9 | Timer relay | Japan | Omron |
End plates & Body in stainless steel,standard material is stainless steel 304, stainless steel 316 is available.
Stainless Steel Mixing shaft.
Minor Ingredient / Inspection Hatch with finger guard.
Can be mounted on mezzanine floor or upon mobile framework.
Counter angled inner & outer ribbon blades for fast and highly efficient mixing.
Timer for repeatable, consistent mixes.
Mobile lockable wheels.
Certified sanitary design.
Hinged safety grates.
Direct drive motors.
A: Adjustable speed by VFD
Powder ribbon blending machine can be customized into speed adjustable by installing a frequency converter, which can be Delta brand, Schneider brand and other requested brand. There is a rotary knob on the control panel to adjust the speed easily.
And we can customize your local voltage for the ribbon blending machine, customize the motor or use VFD to transfer the voltage to meet your voltages requirements.
B: Loading system
In order to make the operation of industrial ribbon blending machine more convenient. Usually small model mixer, such as 100L, 200L, 300L 500L, to equip with stairs to loading, larger model blender, such as 1000L,1500L, 2000L 3000L and other larger customize volume blender, to equip with working platform with steps, they are two kinds of manual loading methods. As to automatic loading methods, there are three kinds of methods, use screw feeder to load powder material, bucket elevator for granules loading are all available, or vacuum feeder to load powder and granules product automatically.
C: Production line
Double ribbon blending machine can works with screw conveyor, storage hopper, auger filler or vertical packing machine or given packing machine, capping machine and labeling machine to form production lines to pack powder or granules product into bags/jars. The whole line will connect by flexible silicone tube and won't have any dust come out, keep the dust-free working environment.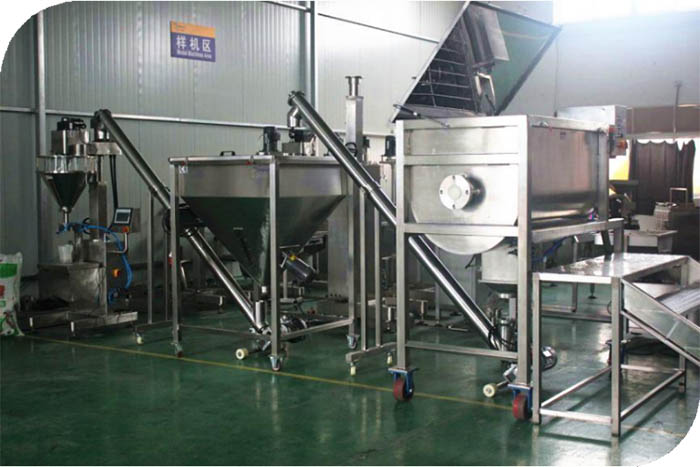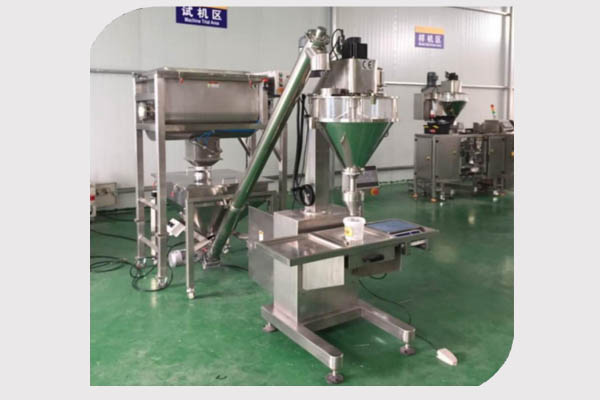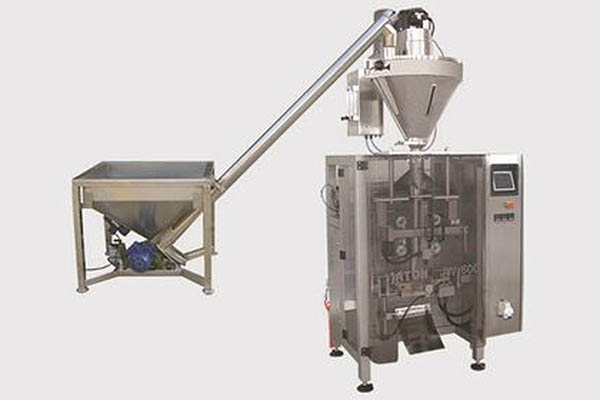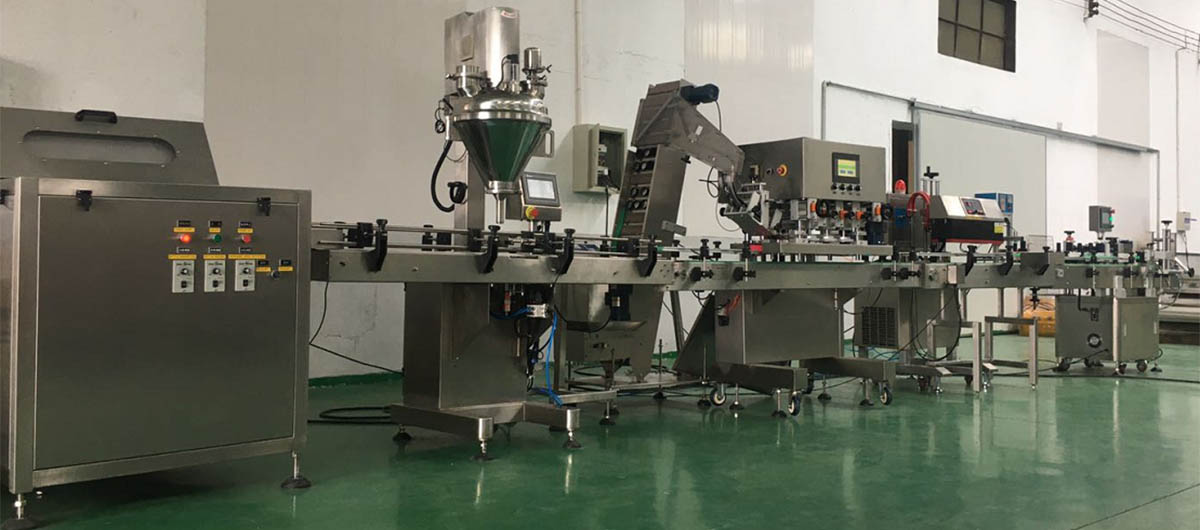 D. Selectable additional function
Double helical ribbon blending machine sometimes needs to be equipped additional functions because of customer requirements, like jacket system for heating and cooling function, weighing system to know loading weight, dust removal system for avoid dust come into working environment, spraying system to add liquid material and so on.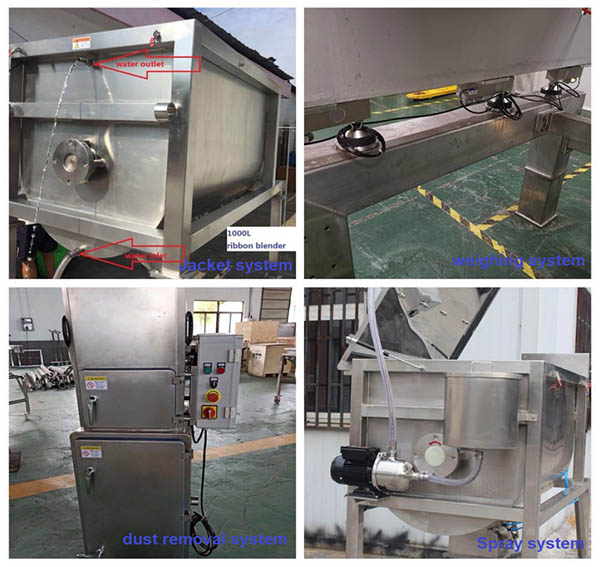 1. Are you a industrial ribbon powder blending machine manufacturer?
Shanghai Tops Group Co., Ltd. was established in 2011, is one of the leading powder blending machine manufacturers in China, packing machine and mixing blender are both main production. We have sold our machines to more than 80 countries all over the world in the past ten years and got good feedback from end-user, dealers.
2. How long does the powder ribbon blending machine lead time?
For standard model ribbon blending machine, the lead time is 10-15days after receiving your down payment. As to customized mixer, the lead time is about 20 days upon receiving your deposit. Such as customize motor, customize additional function, etc. If your order is urgent, we can delivery it in one week upon work overtime.
3. What about your company service?
We Tops Group focus on service in order to provide a optimal solution to customers including before-sales service and after-sales service. We have stock machine in showroom for making test to help customer make final decision. And we also have agent in Europe, you can make a testing in our agent site. If you place order from our Europe agent, you also can get after-sale service in your local. We always care about your mixer running and after-sales service is always at your side to ensure everything runs perfectly with guaranteed quality and performance.
Regarding after-sales service, if you place order from Shanghai Tops Group, within one year's warranty, if the blender have any problem, we will free send the parts for replacement, including express fee. After warranty, if you need any spare parts, we will give you the parts with cost price. In case of your mixer fault happening, we will help you to deal with it in first time, to send picture/video for guidance, or live online video with our engineer for instruction.
4. Do you have the ability of design and propose solution?
Yes, our main business is to do entire packing production line and customized according different requirments .
5.Does your powder ribbon blending machine have CE certificate?
YES, All machiens are CE approved, and have CE certificate.
Moreover, we have some technical patents of powder ribbon blending machine designs, such as shaft sealing design, as well auger filler and other machines appearance design, dust-proof design.
6.What products can ribbon blending mixer handle?
Ribbon blending mixer is widely used in powder material manufacturing process in many fields, like chemical, medicine, food and construction fields. It is suitable for mixing different kinds of powders, powder with small quantity of liquid, and powder with granule.
Click here to check if your product can works on ribbon blending mixer
7. How do industry ribbon blending machines work?
Working pricinple of double ribbon mixing machine is , The outer ribbon push the material from the two sides to the center, and the inner ribbon push the material from the center to both sides to get a high effective mixing, Our special design ribbons can achieve no dead angle in mixing tank.
The effective mixing time is only 5-10 minutes, even less within 3 min.

8. How to select a double ribbon blending machine?
■ Select between ribbon and paddle blender
Before selecting a double ribbon blending machine, please confirm whether the ribbon blender is suitable.
Double ribbon blending machine is suitable for mixing different powder or granule with similar densities and which is not easy to break. It is not suitable for material which will melt or get sticky in higher temperature.
If your product is the mix consist of materials with very different densities, or it is easy to break, and which will melt or get sticky when temperature is higher, we recommend you to select the paddle blender.
Because the working principles are different. Ribbon blending machine moves materials in opposite directions to achieve good mixing efficiency. But paddle blending machine brings materials from tank bottom to top, so that it can keep materials complete and won't make temperature go up during mixing. It won't make material with larger density staying at tank bottom.
■ Choose a suitable model
Once confirm to use the ribbon blender, it comes into making decision on volume model. Ribbon blending machines from all suppliers have the effective mixing volume. Normally it is about 70%. However, some suppliers name their models as total mixing volume, while some like us name our ribbon blending machine models as effective mixing volume.
But most manufacturers arrange their output as weight not volume. You need to calculate the suitable volume according to your product density and batch weight.
For example, manufacturer TP produces 500kg flour each batch, whose density is 0.5kg/L. The output will be 1000L each batch. What TP needs is a 1000L capacity ribbon blending machine. And TDPM 1000 model is suitable.
Please pay attention to the model of other suppliers. Make sure 1000L is their capacity not total volume.
■ Powder blending machine quality
The last but the most important thing is to choose a powder blending machine with high quality. The main technical points for mixing machine is easy to clean and good sealing effect. 
1. Brand of packing gasket is German Burgmann which is more durable and wear-resistant.
It can ensure Good shaft sealing and discharge sealing. As shown in enclosure video, there is no leakage when testing with water.
2. Full-welding technology on the whole mixing machine as shown in attached video. No gap for powder hiding, easy to clean. (Powder might hide in welding gap and turn bad even pollute fresh powder without full-welding treatment.)
3. 99% mixing uniformity with 5-10 min.