V Blender
Product Detail
Product Tags
We the Tops Group Co., LTD. is a professional packaging machine supplier that specialize in the fields of designing, manufacturing, supporting, and servicing a complete line of machinery for different types of liquid, powder, and granular products. We utilized in the production of agriculture industry, chemical industry, food industry, and pharmacy fields, and many more. We are commonly known for its advanced design concept, professional technique support and high quality machines.
Tops-Group looks forward to provide you with amazing service and exceptional products of machines. All together let's create long term valued relationship and build a successful future.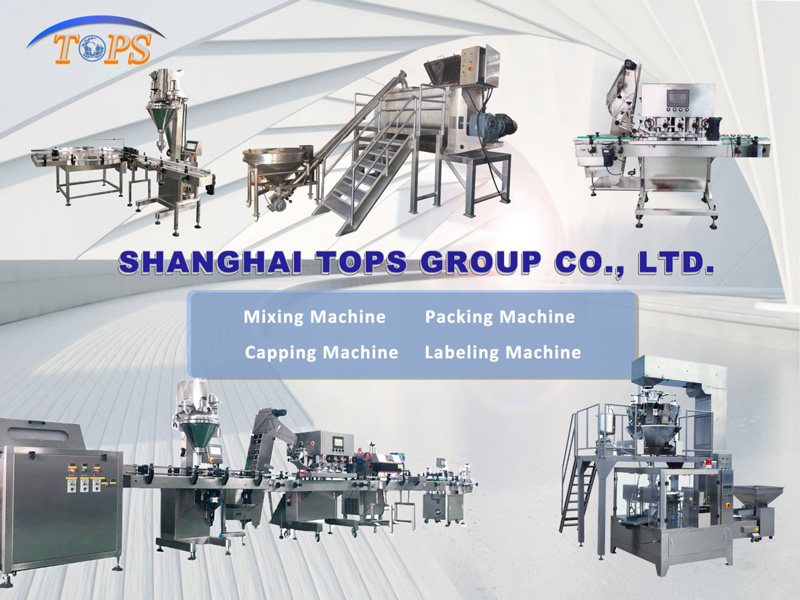 | | |
| --- | --- |
| NAME | V Blender |
| CATEGORY | Powder Blender |
| CAPACITY VOLUME | 100L-200L |
| SHAPE | V-Shape |
| Mixing Time Range | 5-15 minutes |
| Application | Dry powder and Granular |
This newly and unique design of mixing blender that comes up with a glass door is called V Blender, it can mixed evenly and use widely for dry powder and granular materials. V blender is simple, reliable and easy to clean and a good choice for those industries in the fields of chemical, pharmaceutical, food and other industries. It can produce a solid-solid mixture. It consists of a work-chamber connected by two cylinders forming a "V " shape.
V Blender commonly used in dry solid blending materials and commonly used in the following application:
● Pharmaceuticals: mixing prior to powders and granules
● Chemicals: metallic powder mixtures, pesticides and herbicides and many more
● Food processing: cereals, coffee mixes, dairy powders, milk powder and many more
● Construction: steel preblends and etc.
● Plastics : mixing of masterbatches, mixing of pellets, plastic powders and many more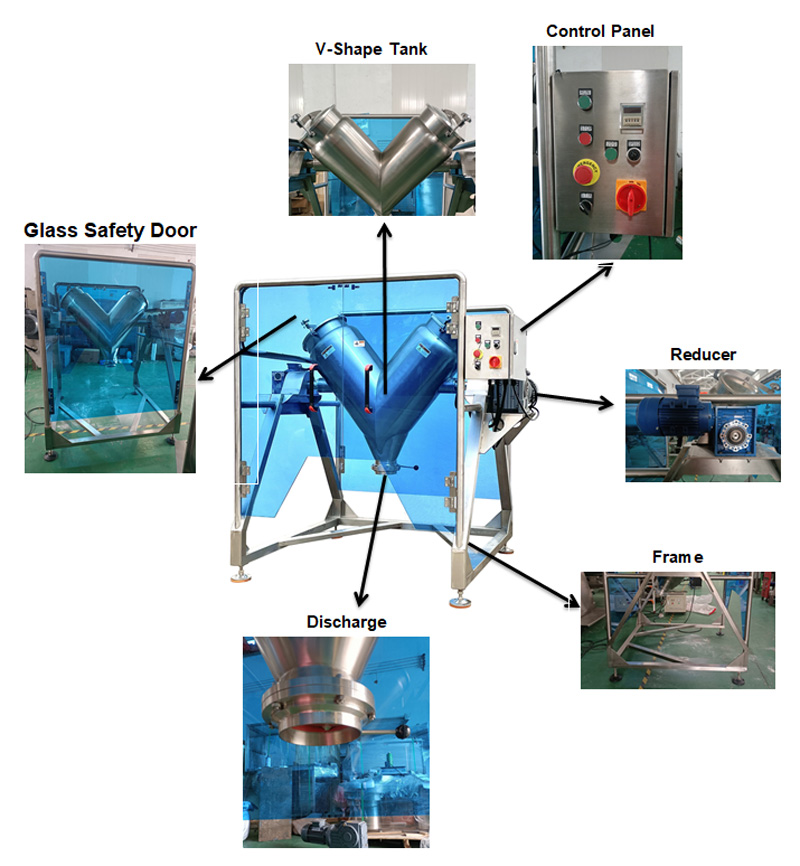 V Blender Operating Principles
V Blender consists of two cylinders formed in a v-shaped. It composed of mixing tank, frame, plexiglass door, control panel system and other components. It uses two symmetric cylinders to create a gravitate mix, which causes materials to congregate and scatter constantly. V Blender mixing uniformity with more than 99%, which means that the product in the two cylinders moves into the central common area with each turn of the blender, and this process, is done continually. The materials in the chamber will be fully mixed.
V Blender Design and Features
● V Blender's internal and external surface of the mixing tank is fully welded and polished.
● V Blender mixing machine has Plexiglas safe door with a safety button.
● Mixing procedure is mild.
● V Blender is made of stainless steel, rust and corrosion resistant.
● Long-lasting service life.
● Safe to operate
-cross contamination
-dead angle in mixing tank.
-segregation
-residue when release.
Advantages of Using V-Blender
● V Blender is safe to use because it has plexiglass safe door.
● Charging and discharging of material is easy.
● Easy to operate and use
● V Blender is easy and safe to clean
● It has safety switch
● Adjustable speed converter
| | | |
| --- | --- | --- |
| Item | TP-V100 | TP-V200 |
| Total Volume | 100L | 200L |
| Effective Loading Rate | 40%-60% | 40%-60% |
| Power | 1.5kw | 2.2kw |
| Stirrer Motor Power | 0.55kw | 0.75kw |
| Tank Rotate Speed | 0-16 r/min | 0-16 r/min |
| Stirrer Rotate Speed | 50r/min | 50r/min |
| Mixing Time | 8-15mins | 8-15mins |
| Charging Height | 1492mm | 1679mm |
| Discharging Height | 651mm | 645mm |
| Cylinder Diameter | 350mm | 426mm |
| Inlet Diameter | 300mm | 350mm |
| Outlet Diameter | 114mm | 150mm |
| Dimension | 1768x1383x1709mm | 2007x1541x1910mm |
| Weight | 150kg | 200kg |
Standard Configuration of V Blender
| | | | |
| --- | --- | --- | --- |
| No. | Item | TP-V100 | TP-V200 |
| 1 | Motor | Zik | Zik |
| 2 | Stirrer Motor | Zik | Zik |
| 3 | Inverter | QMA | QMA |
| 4 | Bearing | NSK | NSK |
| 5 | Discharge Valve | Butterfly Valve | Butterfly Valve |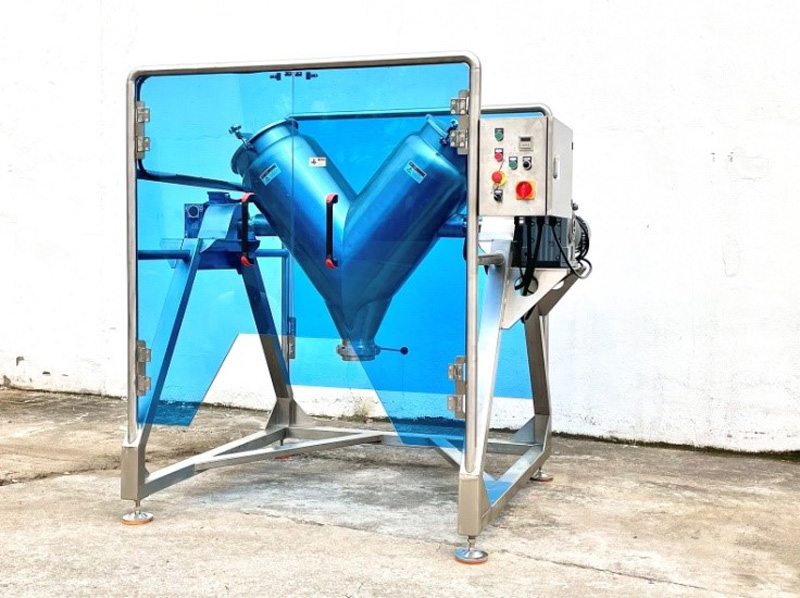 V Blender Special Design
V Blender is a newly design mixing blender that is made of stainless steel. It has a unique design and the base is made up of stainless steel square tube. The frame is made up of stainless
Plexiglass Safe Door
V Blender has plexiglass safe door, it is made for operator's safety. It has safety button and when the door is open the machine also automatically stop.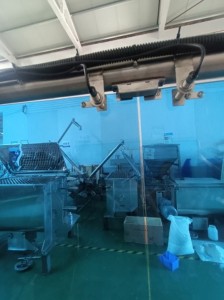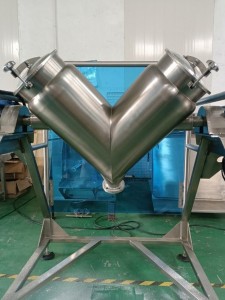 Formed of V-Shape
V Blender consists of two inclined cylinders that connects together in a form of V-shape and made up of stainless steel. The tank is fully welded and polished, no material storage and easy to clean.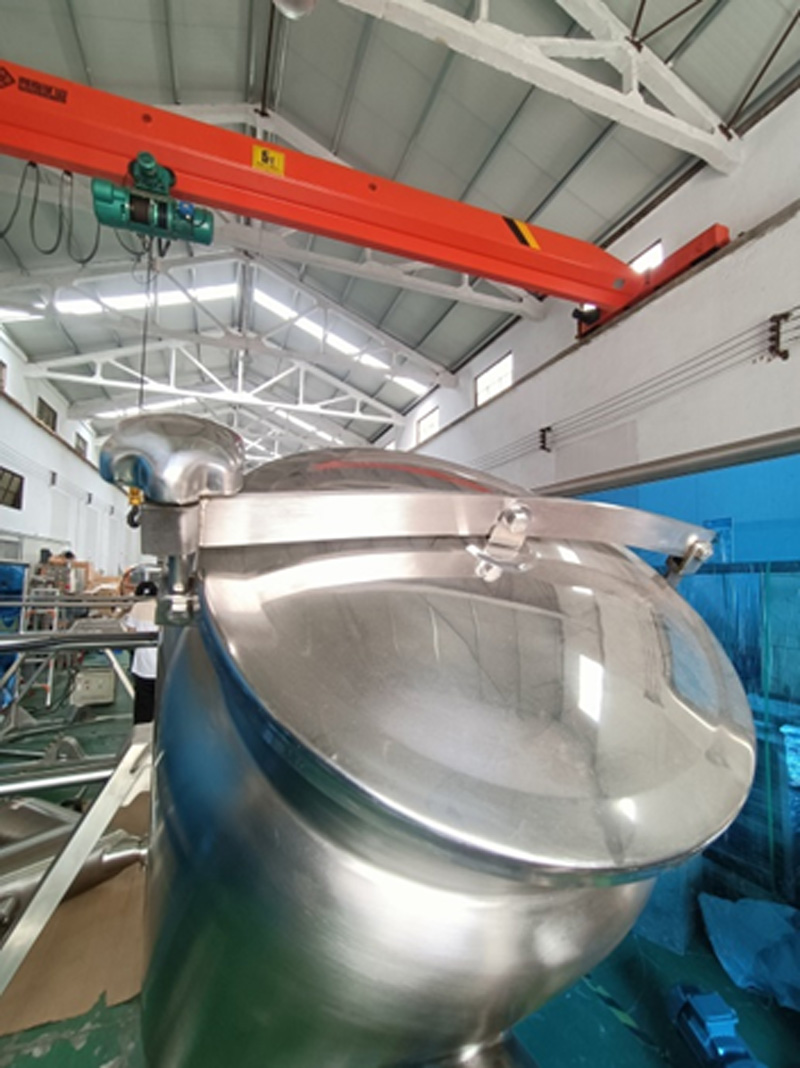 V Blender Removable Cover
V blender feeding inlet has removable cover which is made of stainless steel and rubber sealing edible silicone strip. It is easy to operate through pressing the lever and it gives good performance.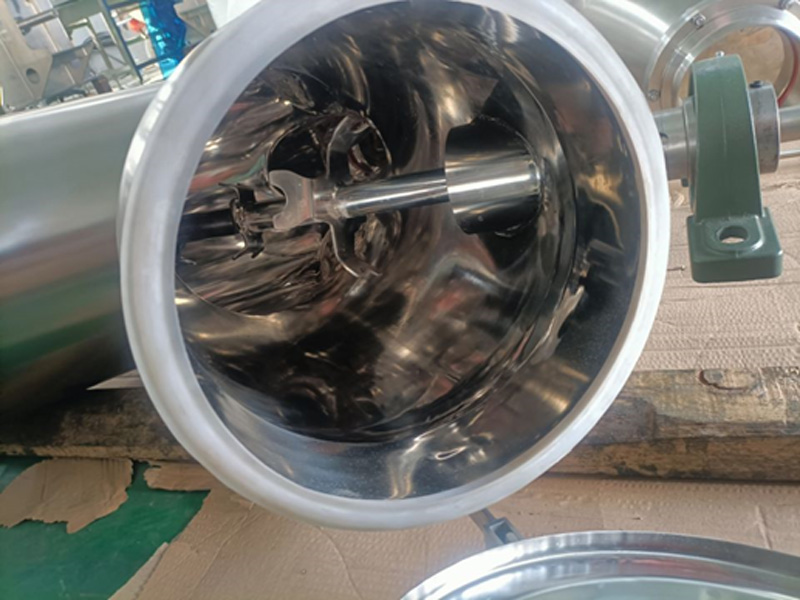 Inside of Tank
Inside of V Blender tank is fully welding and polished. It is easy and safe to clean, no dead angle in discharging.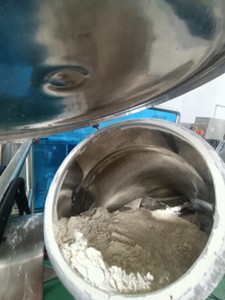 Example of charging powder material, the convenience and satisfaction you get if you work with a V- Blender.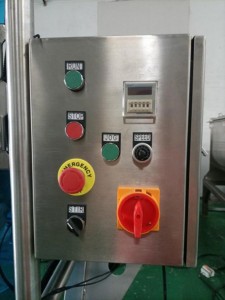 Control Panel
V Blender can also customize speed adjustable, by installing a frequency converter; the v blender can be adjusted to the speed. You can set the time according to the material and mixing process.
V Blender has also inching button for the tank to turn at appropriate charging (or discharging) position for feeding and discharging materials.
V Blender has also safety switch for the safety of the operator, to avoid personnel injury.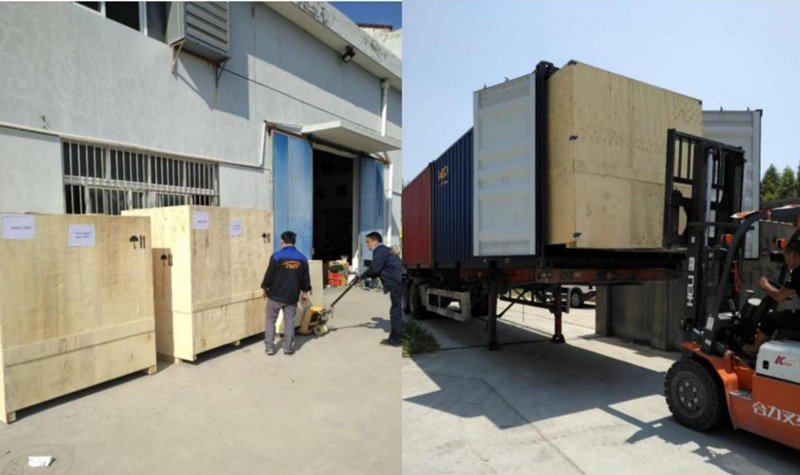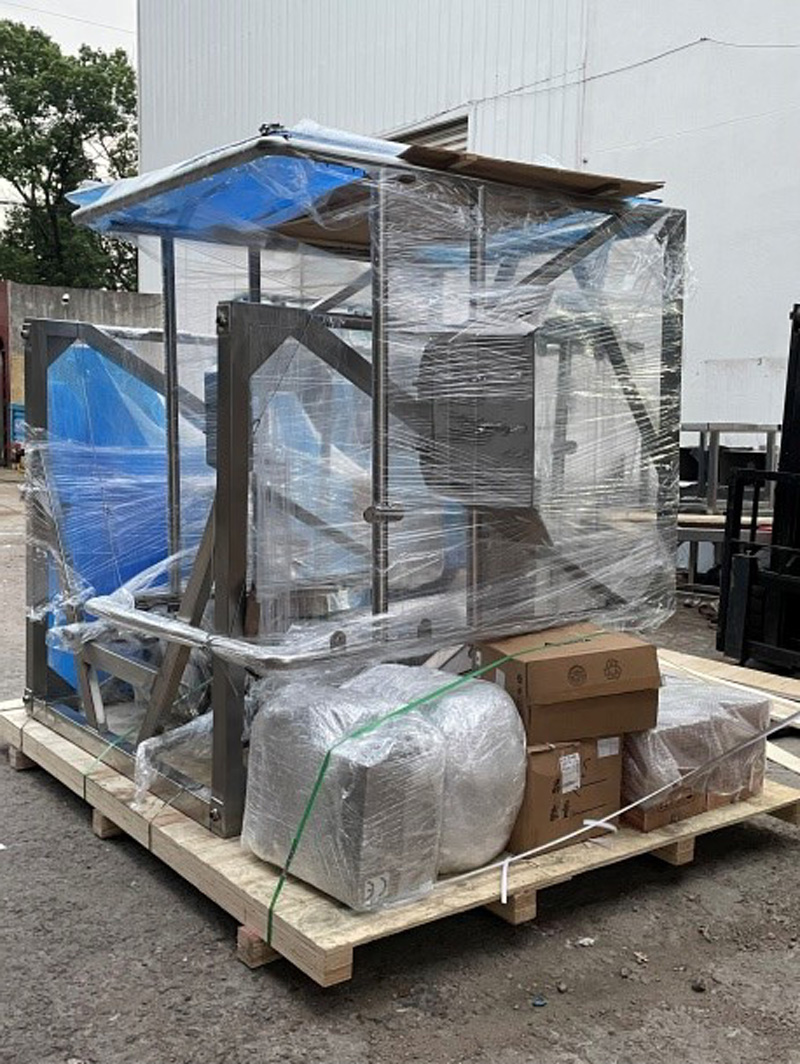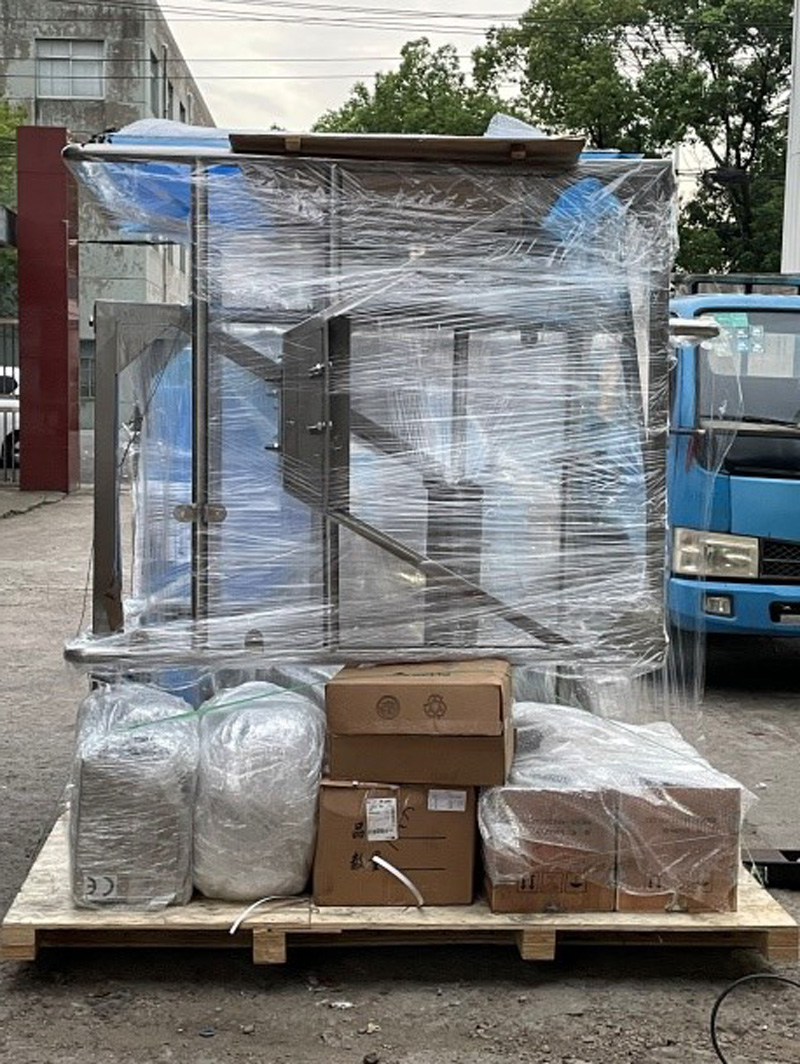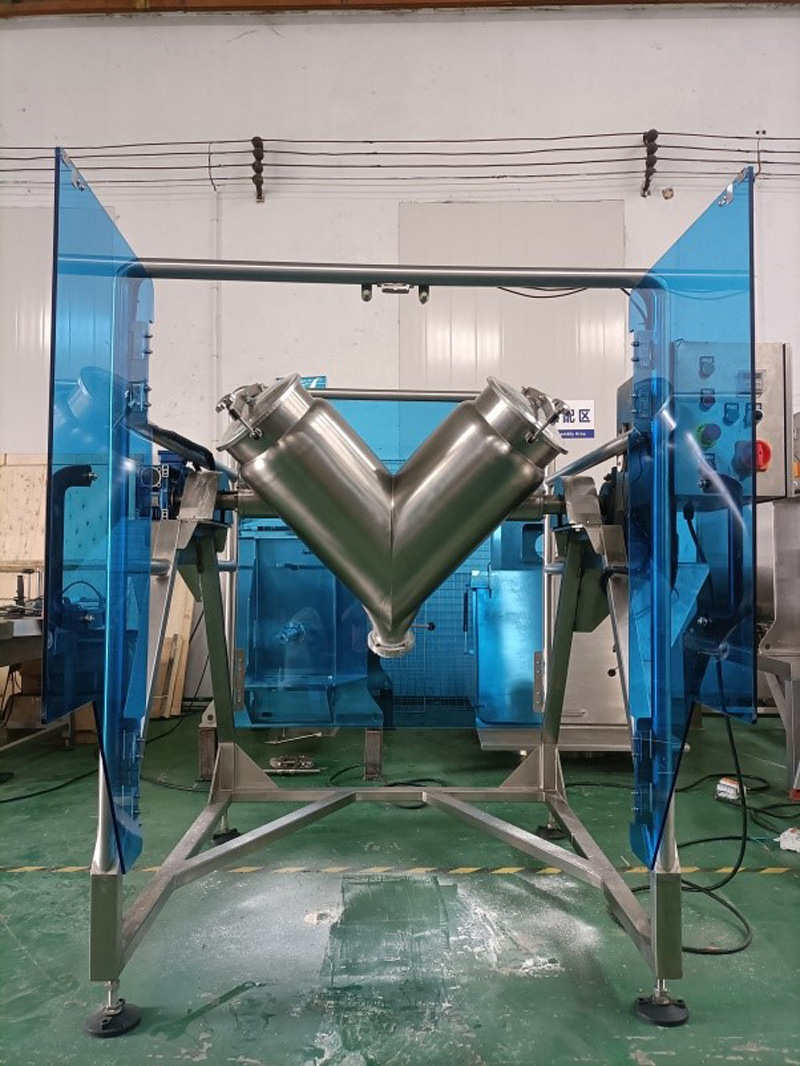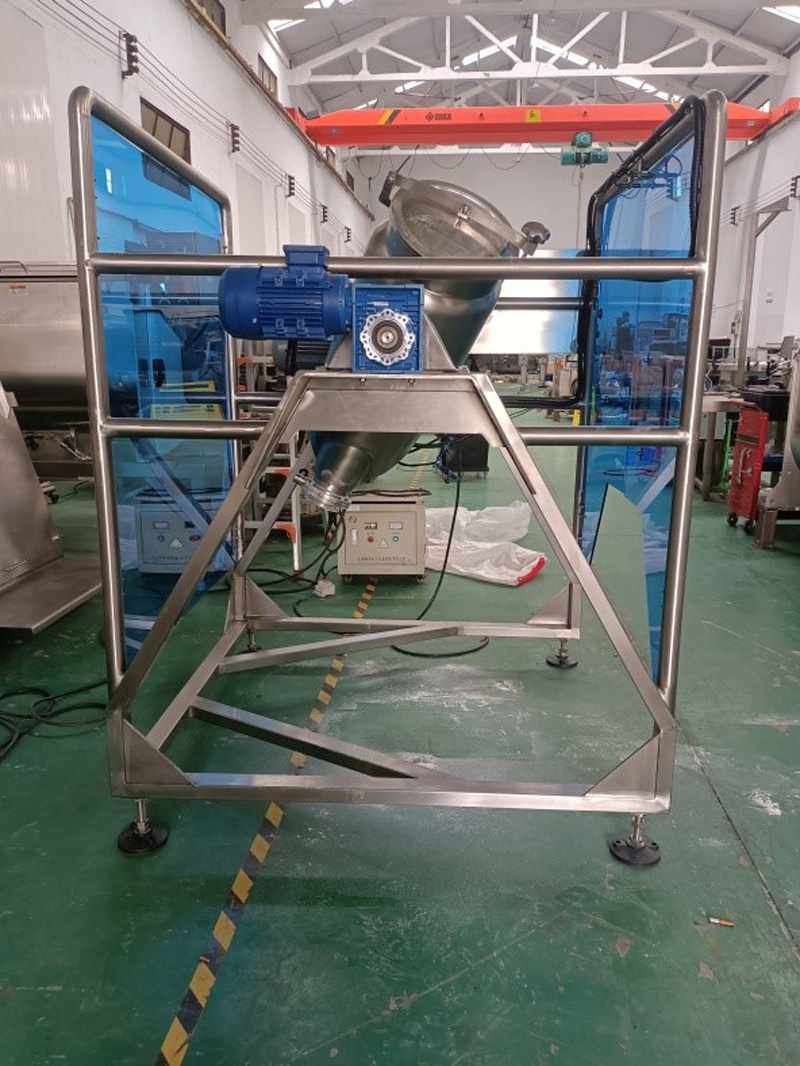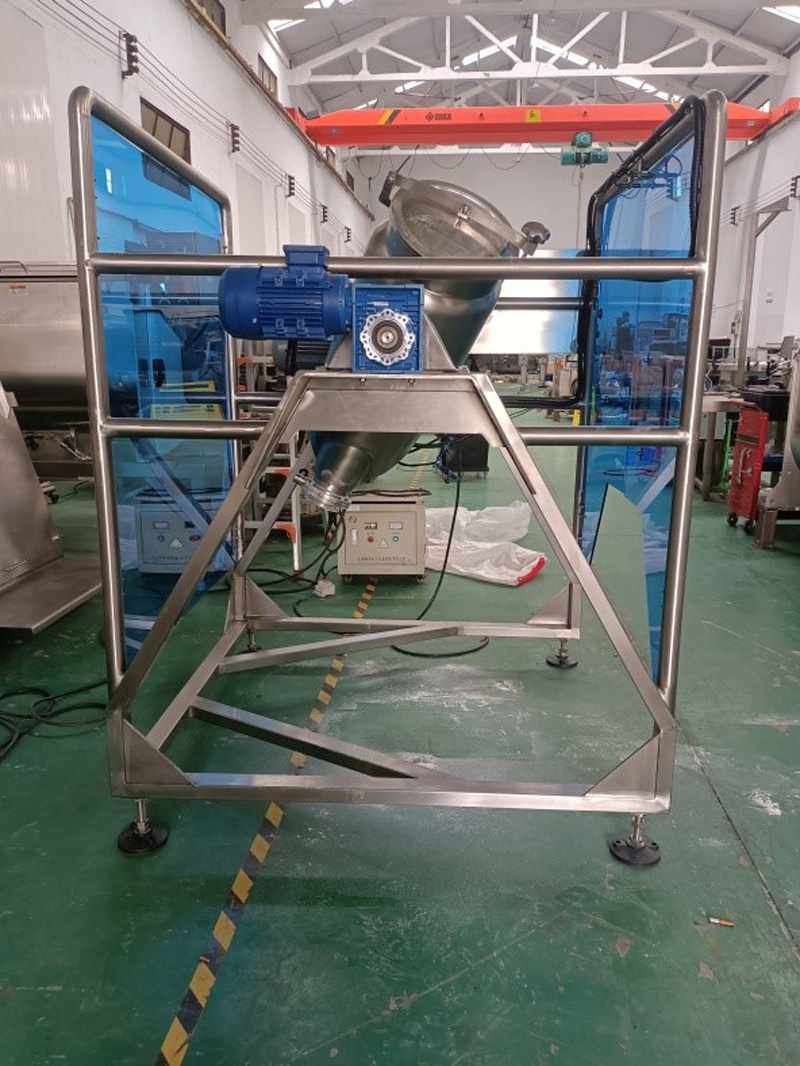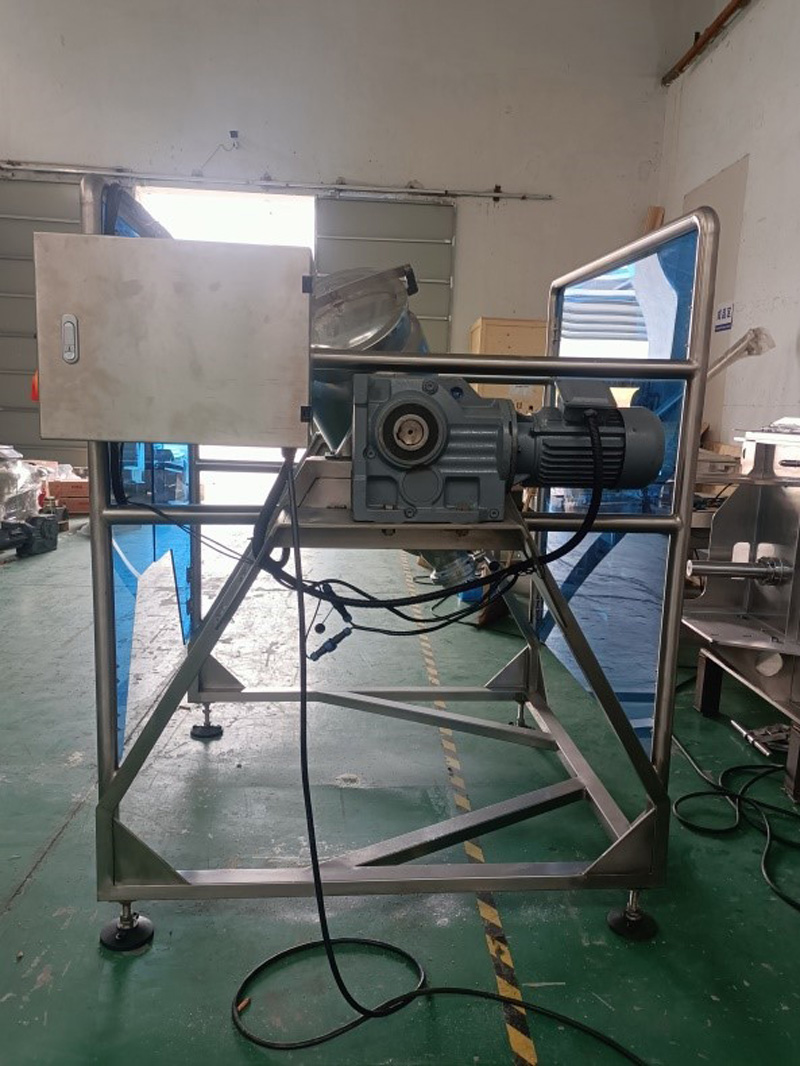 ■ Warranty: TWO YEAR warranty
                    ENGINE THREE YEARS warranty
                    Life-long service
(Warranty service will be honored if the damage is not caused by human or improper operation)
■ Provide accessory parts in favorable price
■ Update configuration and program regularly
■ Respond to any question in 24 hours
■ Payment Term: L/C, D/A, D/P, T/T, Western Union, Money Gram, PayPal
■ Price Term: EXW, FOB, CIF, DDU
■ Package: cellophane cover with wooden case.
■ Delivery Time: 7-10 days (standard model)
                          30-45days (customized machine)
■ Note: V Blender shipped by air is about 7-10 days and 10-60 days by sea, it   depends on a distance.
■Place of Origin: Shanghai China
If you have questions and inquiries feel free to contact us.
              Tel: +86-21-34662727 Fax: +86-21-34630350
 E-mail: wendy@tops-group.com
Address: N0.28 Huigong Road, Zhangyan Town, Jinshan District,
Shanghai China, 201514
THANK YOU AND WE LOOK FORWARD
TO ANSWER YOUR INQUIRY!
---
Previous:
Ribbon mixing machine
Next:
V Mixer
---