LNT Serise Liquid Mixer
Product Detail
Product Tags
Working Principle

The motor  serves as drive part to impel triangle wheel rotate, through the adjustable speed stirring of the paddle and the homogenizer, the materials are fully mixed and blended completely. Operate easily, low noise, working stable.
Application
Liquid mixer is widely used in kinds of  fields, such as pharmaceutical, food, daily care, cosmetic, chemical industry.
(1)Pharmaceutical industry: syrup, ointment, oral liquid...
(2)food industry: soap, chocolate, jelly, beverage...
(3)daily care industry: shampoo, shower gel, facial cleanser...
(4)Cosmetics industry: creams, liquid eye shadow, makeup remover...
(5)Chemical industry: oil paint, paint, glue...
Features

(1)Suitable for industrial mass production, high viscosity material mixing.
(2)Unique design, spiral blade can guarantee high viscosity material up-and-down, no dead space.
(3)Closed structure could avoid dust float in the sky, also vacuum system available.
Tank Data Sheet
| | |
| --- | --- |
| Tank Volume | From 50L up to10000L |
| Material | 304 or 316 Stainless steel |
| Top Head type | Dish top,Open lid top,Flat top |
| Bottom type | Dish bottom, Conical bottom, Flat bottom |
| Agitator type | Impeller, Anchor, Turbine, High shear, Magnetic mixer, Anchor mixer with scraper |
| Inside Finsh | Mirror polished Ra<0.4um |
| Outside Finsh | 2B or Satin Finsh |
| Insulation | Single layer or with insulation |
Parameters
Model

Effective Volume(L)

Dimension of tank(D*H)(mm)

Total Height(mm)

Motor Power(kw)

Agitator Speed(r/min)

LNT-500

500

Φ800x900

1700

0.55

63

LNT-1000

1000

Φ1000x1200

2100

0.75

LNT-2000

2000

Φ1200x1500

2500

1.5

LNT-3000

3000

Φ1600x1500

2600

2.2

LNT-4000

4000

Φ1600x1850

2900

2.2

LNT-5000

5000

Φ1800x2000

3150

3

LNT-6000

6000

Φ1800x2400

3600

3

LNT-8000

8000

Φ2000x2400

3700

4

LNT-10000

10000

Φ2100x3000

4300

5.5

We can customize the equipment according to customer requirements.
Detailed Images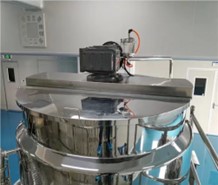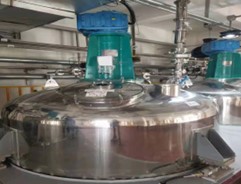 The type of the mixing tank top can be customized half-open cover type and sealed top type with feeding port.
Material: stainless steel material
Pipe: All contact material parts adopt GMP hygiene standards SUS316L, Sanitation grade accessories & valves
The connection between the motor and the mixer top is mechanically sealed,to keep a banlanced temperature when electric heating rod used to heat material,also no leaking.
Most customers ordered the sealed top type.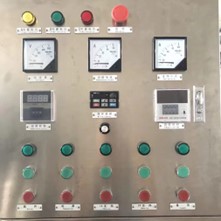 Electric control system
Outer layer material: adopt SUS304 Stainless steel plate
Thickness:1.5mm
Meter:Thermometer, Time digital display met, Voltmeter, Homogenizer time reply
Button:Each function switch control button, emergency switch, light switch, start/stop buttonsIndicate
Light: RYG 3 colors indicate light and all system working indicate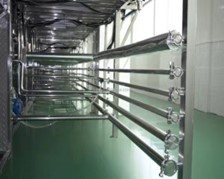 Stainless steel pipes
Material: SUS316L and SUS304, soft tubesValve: Manual valves (can be customized to pneumatic valves)Pure water pipe, tap-water pipe, drain pipe, steam pipe (customized) etc.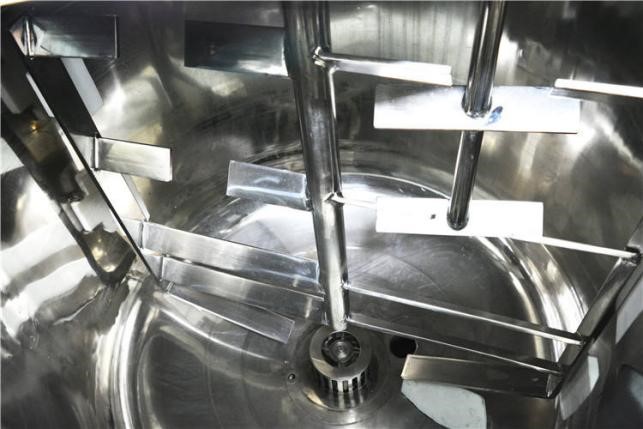 Stirrer paddle & scraper blade
304 stainless steel, full polishing.
Wear-resistance and durability.
Easy to clean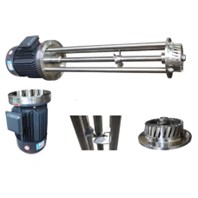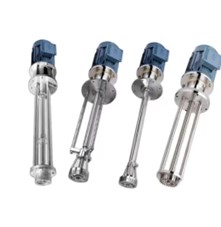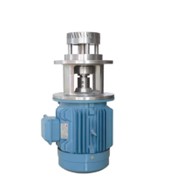 Homogenizier & Emulsifier
Bottom Homogenizer /Emulsifier (can be customized to upper homogenizer)
Material: SUS316L
Motor power: Depends on capacity
Speed: 0-3600rpm, DELTA inverter
Time: 20-40min according to different materials
Processing methods: Rotor and stator adopt to wire-cut process
They can achieve almost same work effect. 
Options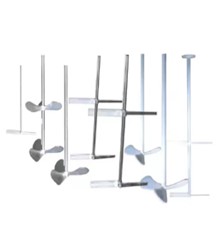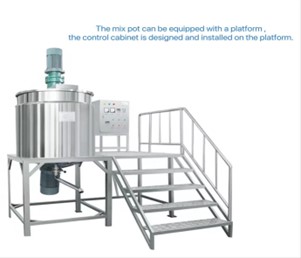 Jacket System
According to the requirements of the production process, the materials can be heated or cooled by heating in the jacket. Set a specific temperature, when the temperature reaches the required requirements, the heating device automatically stops heating.
For cooling or heating, double jacket will be a better choice.
Water for cooling
Boiled water or oil for heating.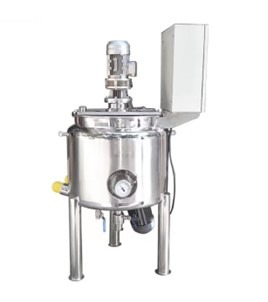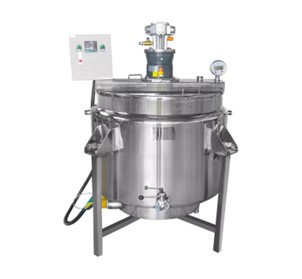 Liquid mixer with pressure gauge is recommended for viscous materials.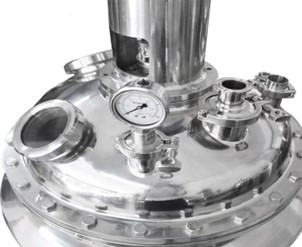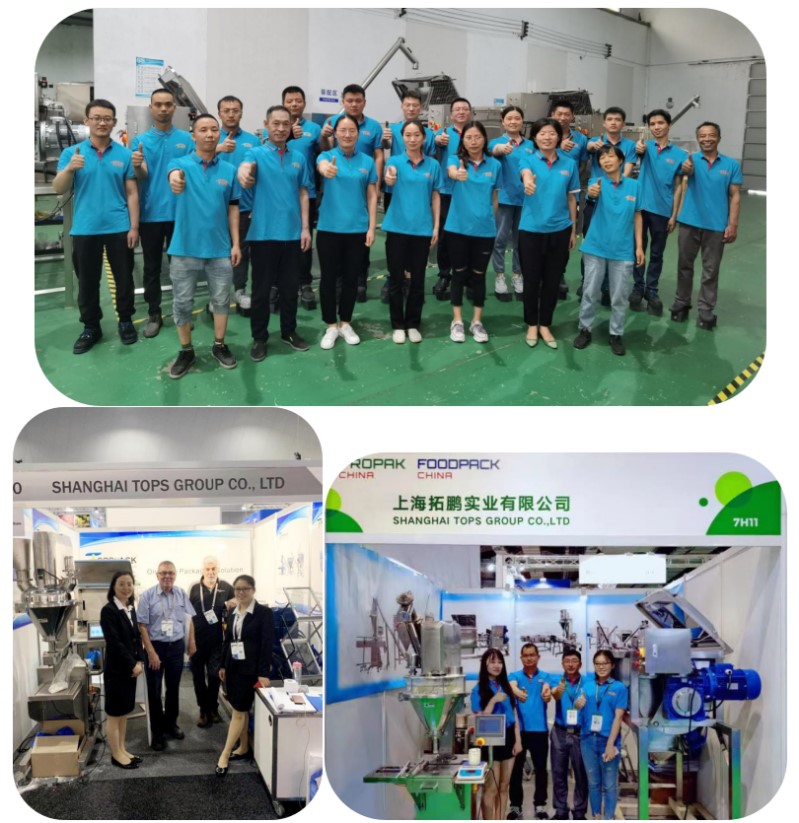 Service & Qualifications
■TWO YEAR warranty, ENGINE THREE YEARS warranty,      life-long service
(Warranty service will be honored if the damage is not caused by human or improper operation)
■Provide accessory parts in favorable price
■Update configuration and program regularly
Respond to any question in 24 hours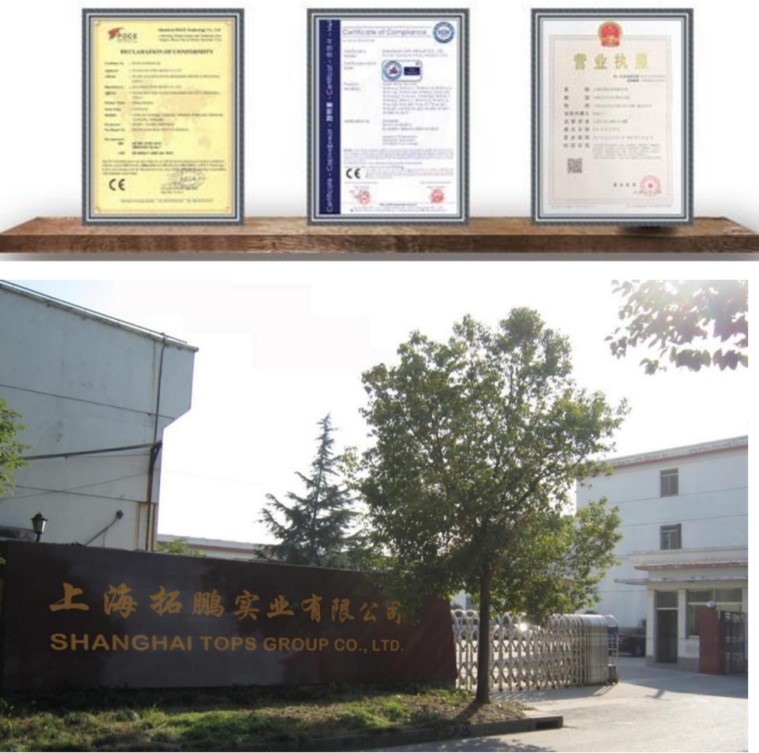 ---
Next:
capping machine
---