Bottle Capping machine
Product Detail
Product Tags
Bottle capping machine structure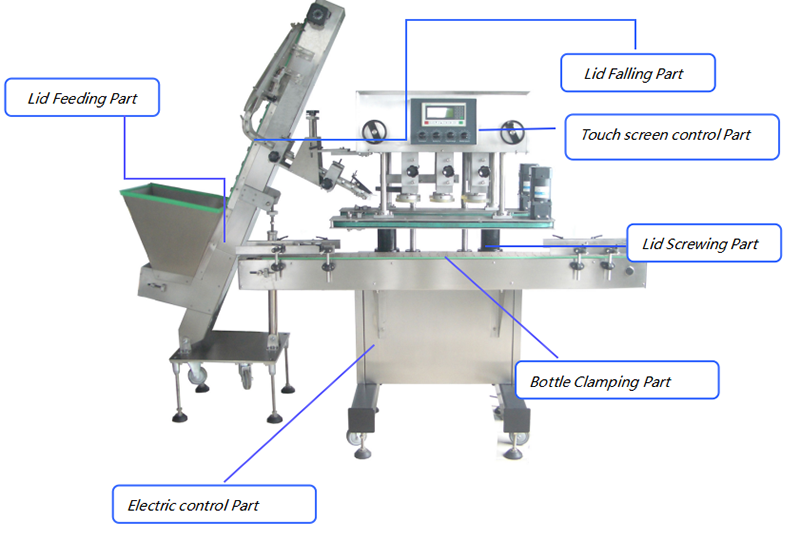 Consist of
1:  Lid feeding part                     2: Lid falling part
3:  Lid screwing part                   4: Bottle clamping part
5:  Touch screen control part      6 :  Electric control part
It consists of two parts: screw capping part and lid feeding part.
Working steps of bottle capping machine: Bottles coming→Convey→Separate bottles in same distance→Lift lids→Put on lids→Screw and press lids→Collect bottles
• PLC&touch screen control, easy to operate;
• Easy to operate , Speed of conveying belt is adjustable to synchronous with whole system;
• Stepped lifting device to feed in lids automatically;
• Lid falling part can remove error lids away(by air blowing and weight measuring)
• All the contact parts with bottle and lids are made of material safety for food
• The belt to press the lids is inclined, so it can adjust the lid into the correct place and then pressing
• Machine body is made of SUS 304, meet GMP standard
• Optronic sensor to remove the bottles which are error capped (Option)
• Digital display screen to show the size of different bottle, which will be convenient for changing bottle(Option).

Bottle Capping Machine is an automatic capping machine to press and screw lids on bottles. It's special designed for automatic packing line. Different to traditional intermittent type capping machine, this machine is a continuous capping type. Compared to intermittent capping, this machine is more efficient, pressing more tightly, and do less harm to the lids. Now it's widely applied in food, pharmaceutical,agriculture, chemical,
cosmetics industries.
Intelligent
Automatic error lids remover and bottle sensor, assure good capping effect
Convenient
Adjustable according to height, diameter, speed, suit more bottles and less frequent to change parts.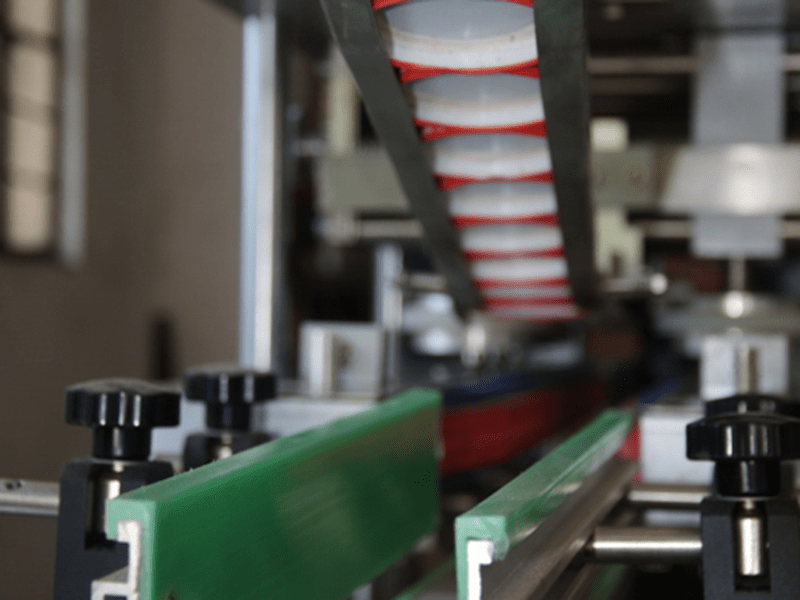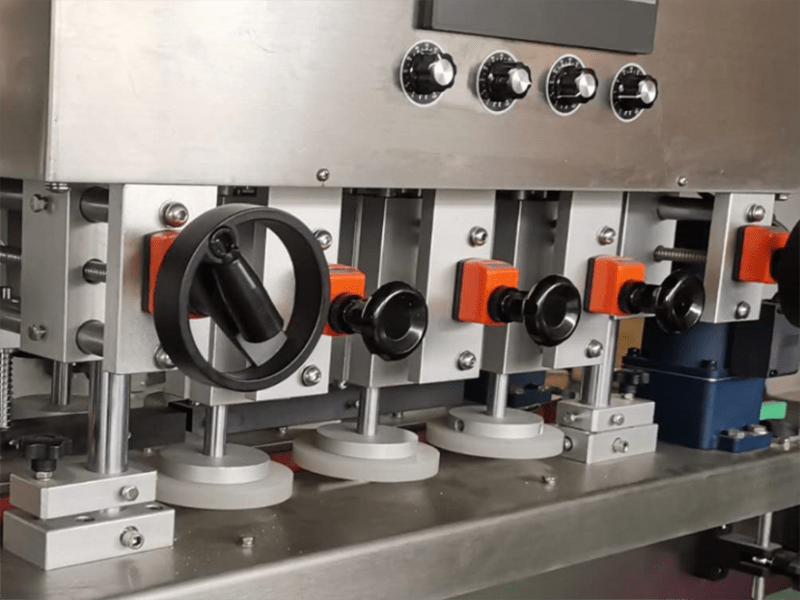 Efficient
Linear conveyor, automatic cap feeding, max speed 80 bpm
Easy operate
PLC&touch screen control, easy to operate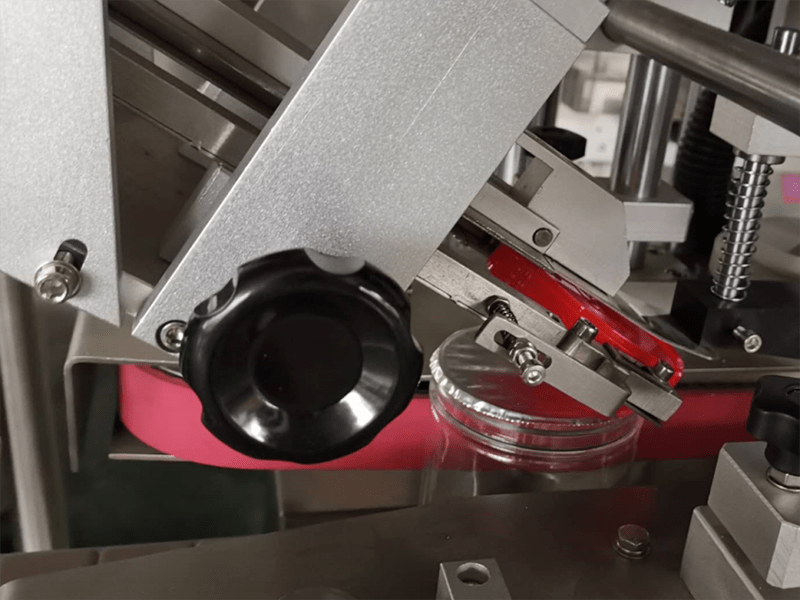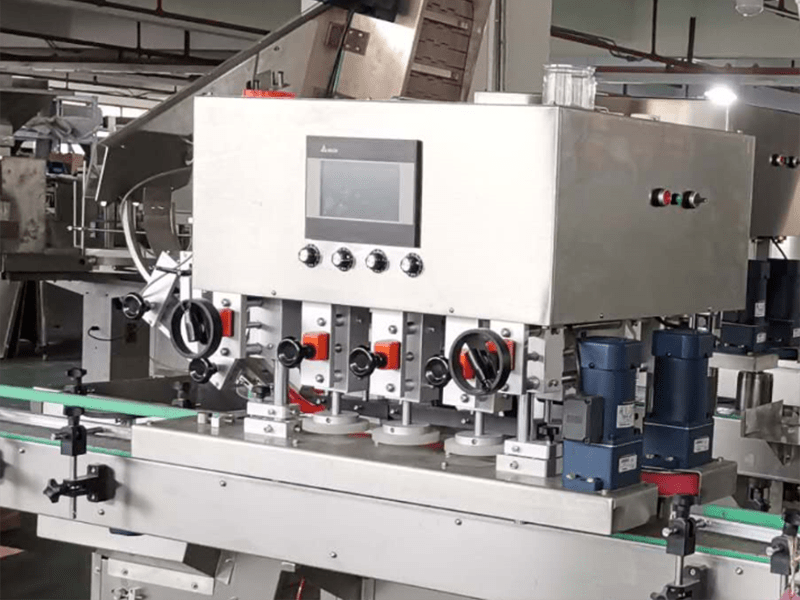 Humanize
All adjusting hand wheels are with dial, to easy change same diameter bottle capping next time production
Special designing
The switch to control the first group rotary wheels reverse rotation, to let special lid thread just matches the thread on the bottle mouth.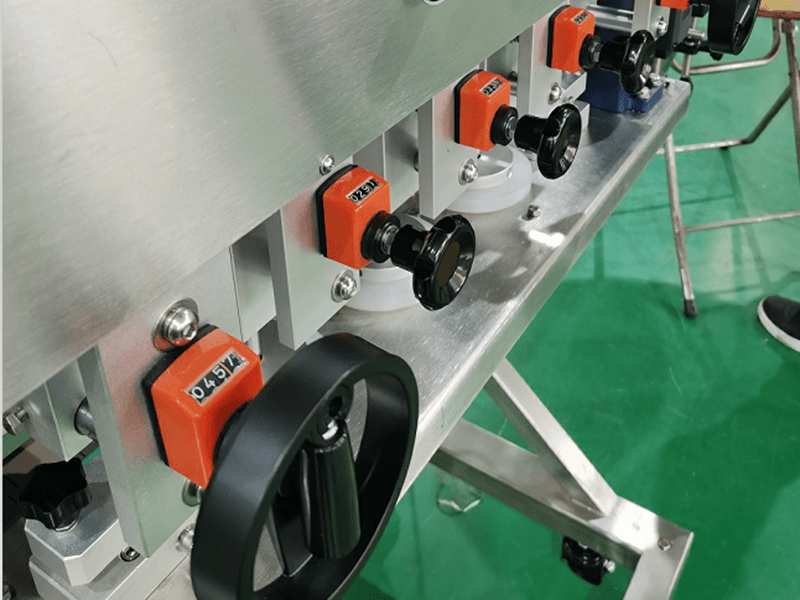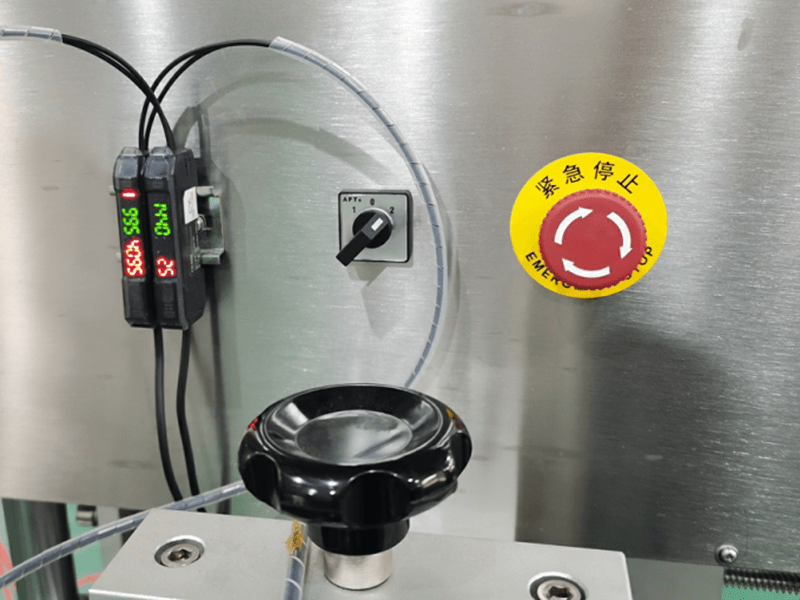 Bottle Capping Machine

Capacity

50-120 bottles/min

Dimension

2100*900*1800mm

Bottles diameter

Φ22-120mm ( customized according to requirement )

Bottles height

60-280mm (customized according to requirement )

Lid size

Φ15-120mm

Net Weight

350kg

Qualified rate

≥99%

Power

1300W

Matrial

Stainless steel 304

Voltage

220V/50-60Hz(or customized)
| | | | |
| --- | --- | --- | --- |
| No. | Name | Origin | Brand |
| 1 | Invertor | Taiwan | Delta |
| 2 | Touch Screen | China | TouchWin |
| 3 | Optronic Sensor | Korea | Autonics |
| 4 | CPU | US | ATMEL |
| 5 | Interface Chip | US | MEX |
| 6 | Pressing Belt | Shanghai |   |
| 7 | Series Motor | Taiwan | TALIKE/GPG |
| 8 | SS 304 Frame | Shanghai |  BaoSteel |
A: Automatic bottle unscrambler or turntable:
In order to make the operation of bottle capping machine more convenient. Usually in the front of the bottle capping machine to connect bottle unscrambler or turntable, which will feed bottles into capper's conveyor automatically.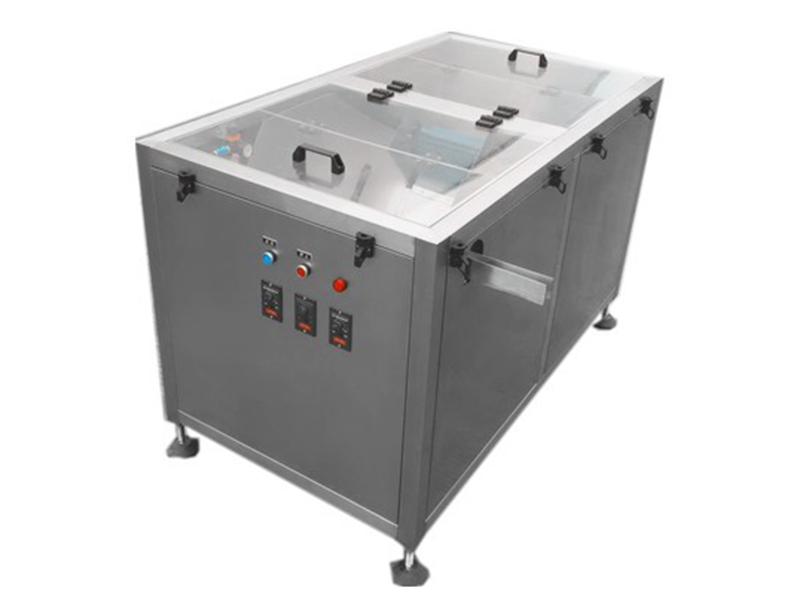 Automatic bottle unscrambling machine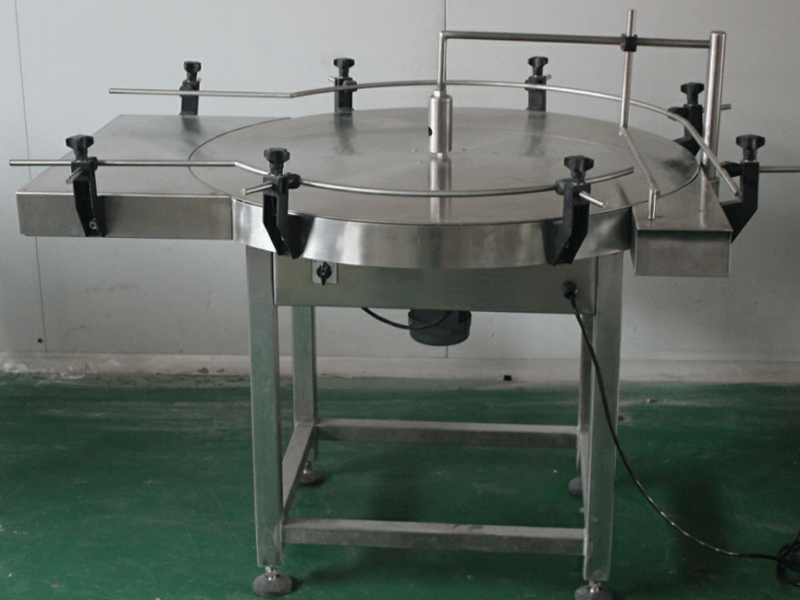 B: Filling machine
Generally, capping machine will connect filling machine to form a production line, to Realize automated production and increase production. Such as automatic auger filing machine, automatic linear weighter, automatic liquid filling machine.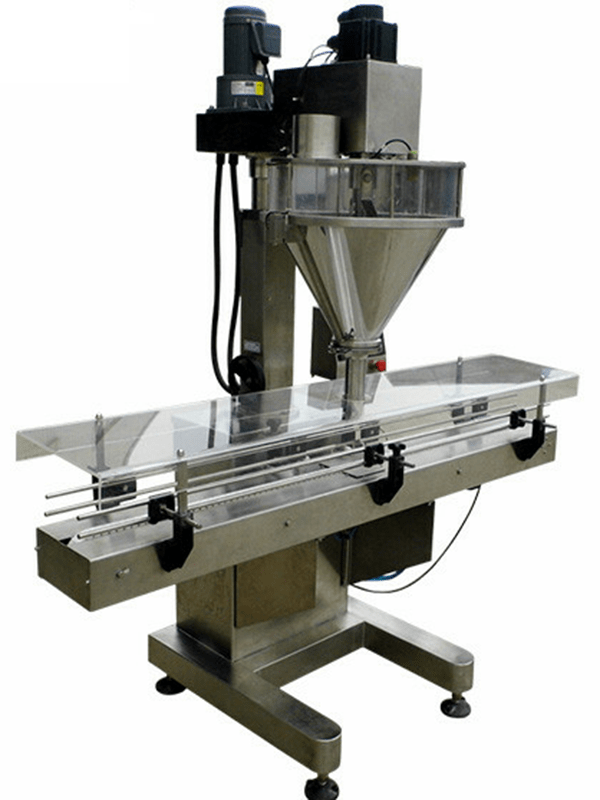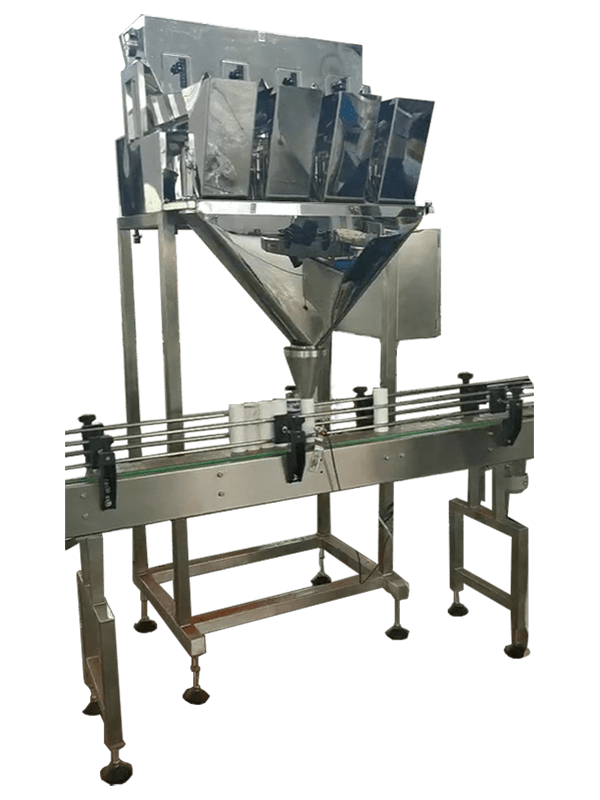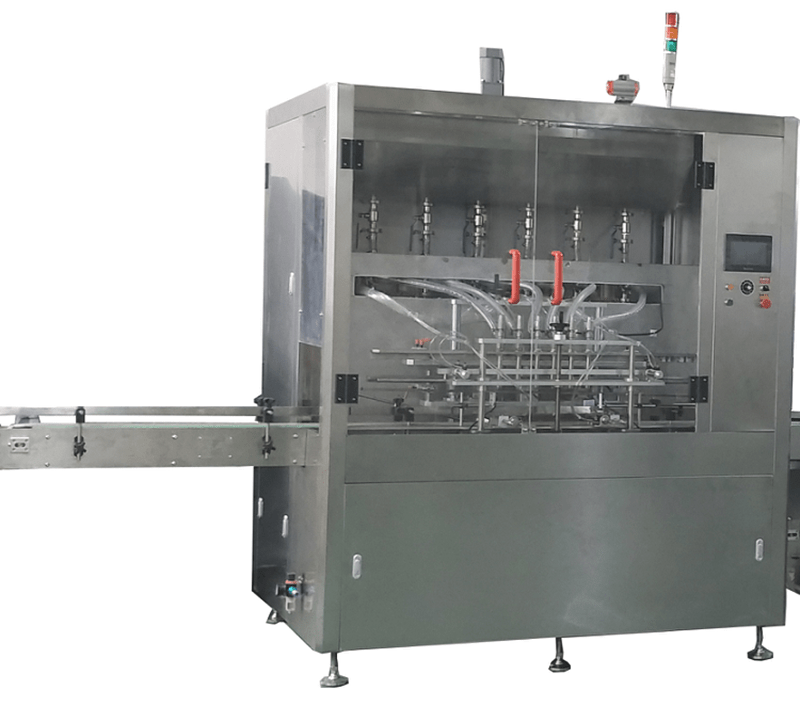 C: Labeling machine
Bottle labeling machine is generally placed behind the bottle capping machine, after capping, then the bottle will be labeled.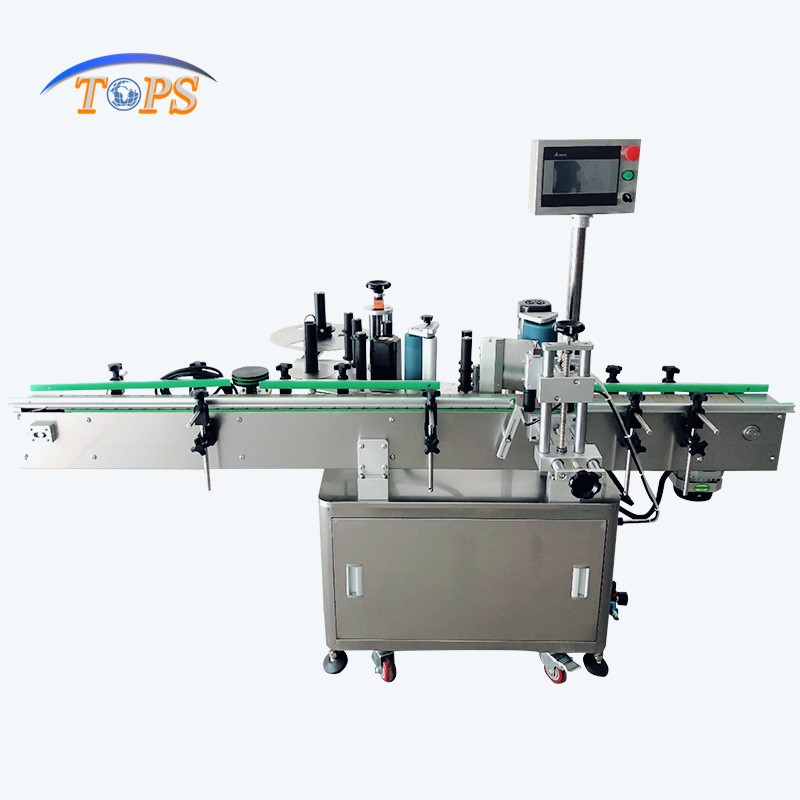 1. Are you a industrial capping machine manufacturer?
Shanghai Tops Group Co., Ltd is one of the leading capping machine manufacturers in China, who has been in packing machine industry for over ten years. We have sold our machines to more than 80 countries all over the world.
Our company has a number of invention patents of ribbon blender design as well other machines.
We have abilities of designing, manufacturing as well customizing a single machine or whole packing line.
2. Does your capping machine have CE certificate?
Not only the capping machine but also all our machines have CE certificate.
3. How long is the capping machine delivery time?
It takes 7-10 days to produce a standard model.
For customized machine, your machine can be done in 30-45 days.
Moreover, machine shipped by air is about 7-10 days.
Ribbon blender delivered by sea is about 10-60 days according to different distance.
4. What's your company service and warranty?
Before you make the order, our sales will communicate all details with you until you get a satisfying solution from our technician. We can use your product or similar one in China market to test our machine, then feed you back the video to show the effect.
For the payment term, you can choose from following terms:
L/C, D/A, D/P, T/T, Western Union, Money Gram, Paypal
After making the order, you can appoint inspection body to check your powder ribbon blender in our factory.
For the shipping, we accept all term in contract like EXW, FOB, CIF, DDU and so on.
5. Do you have the ability of design and propose solution?
Of course, we have professional design team and experienced engineer. For example, we designed a bread formula production line for Singapore BreadTalk.
6. Does your powder mixing blender machine have CE certificate?
Yes, we have powder mixing equipment CE certificate. And not only coffee powder mixing machine, all our machines have CE certificate.
Moreover, we have some technical patents of powder ribbon blender designs, such as shaft sealing design, as well auger filler and other machines appearance design, dust-proof design.
7. What products can ribbon blender mixer handle?
Ribbon blender mixer can handle all kinds of powder or granule mixing and is widely applied in food, pharmaceuticals, chemical and so on.
Food industry: all kinds of food powder or granule mix like flour, oat flour, protein powder, milk powder, coffee powder, spice, chilli powder, pepper powder, coffee bean, rice, grains, salt, sugar, pet food, paprika, microcrystalline cellulose powder, xylitol etc.
Pharmaceuticals industry: all kinds of medical powder or granule mix like aspirin powder, ibuprofen powder, cephalosporin powder, amoxicillin powder, penicillin powder, clindamycin powder, azithromycin powder, domperidone powder, amantadine powder, acetaminophen powder etc.
Chemical industry: all kinds of skin care and cosmetics powder or industry powder mix, like pressed powder, face powder, pigment, eye shadow powder, cheek powder, glitter powder, highlighting powder, baby powder, talcum powder, iron powder, soda ash, calcium carbonate powder, plastic particle, polyethylene etc.
Click here to check if your product can works on ribbon blender mixer
8. How do industry ribbon blenders work?
Double layer ribbons which stand and turn in opposite angels to form a convection in different materials so that it can reach a high mixing efficiency.
Our special design ribbons can achieve no dead angle in mixing tank.
The effective mixing time is only 5-10 minutes, even less within 3 min.
9. How to select a double ribbon blender?
Select between ribbon and paddle blender
To select a double ribbon blender, the first thing is to confirm if the ribbon blender is suitable.
Double ribbon blender is suitable for mixing different powder or granule with similar densities and which is not easy to break. It is not suitable for material which will melt or get sticky in higher temperature.
If your product is the mix consist of materials with very different densities, or it is easy to break, and which will melt or get sticky when temperature is higher, we recommend you to select the paddle blender.
Because the working principles are different. Ribbon blender moves materials in opposite directions to achieve good mixing efficiency. But paddle blender brings materials from tank bottom to top, so that it can keep materials complete and won't make temperature go up during mixing. It won't make material with larger density staying at tank bottom.
Choose a suitable model
Once confirm to use the ribbon blender, it comes into making decision on volume model. Ribbon blenders from all suppliers have the effective mixing volume. Normally it is about 70%. However, some suppliers name their models as total mixing volume, while some like us name our ribbon blender models as effective mixing volume.
But most manufacturers arrange their output as weight not volume. You need to calculate the suitable volume according to your product density and batch weight.
For example, manufacturer TP produces 500kg flour each batch, whose density is 0.5kg/L. The output will be 1000L each batch. What TP needs is a 1000L capacity ribbon blender. And TDPM 1000 model is suitable.
Please pay attention to the model of other suppliers. Make sure 1000L is their capacity not total volume.
Ribbon blender quality
The last but the most important thing is to choose a ribbon blender with high quality. Some details as following are for reference where problems are most likely to occur on a ribbon blender.
Shaft sealing: test with water can show the shaft sealing effect. Powder leakage from shaft sealing always troubles users.
Discharge sealing: test with water also shows the discharge sealing effect. Many users have met leakage from discharge.
Full-welding: Full welding is one of the most important part for food and pharmaceutical machines. Powder is easy to hide in gap, which may pollute fresh powder if residual powder goes bad. But full-welding and polish can make no gap between hardware connection, which can show machine quality and usage experience.
Easy-cleaning design: A easy-cleaning ribbon blender will save much time and energy for you which is equal to cost.
10. What's the ribbon blender price?
The ribbon blender price is based on capacity, option, customization. Please contact us to get your suitable ribbon blender solution and offer.
11. Where to find a ribbon blender for sale near me?
We have agents in several countries, where you can check and try our ribbon blender, who can help you one shipping and customs clearance as well after-service. Discount activities are held from time to time of one year. Contact us to get the latest price of ribbon blender please.
---
Previous:
Automatic screw capping machine
---